"I need a small crew tomorrow to bottle up our latest batch from morning until 3pm. Let me know if you can make it."
For four years I've received similarly-worded emails from Saint Somewhere Brewing followed by personal frustration. I knew I had to work the next day, or I'd be in a not-so-near location. Often, before I even had time to reflect on whether my job would miss me or not, I'd receive a follow-up email, "Thanks for the responses, but all spots have been taken."
The emails were sporadic. Unpredictable.
And I could never make it.
Then, last week, the beer bottles of the heavens aligned. I received the email. I realized both Hubs and I weren't working. Faster than you can say, "Stout!" I replied back… and got in!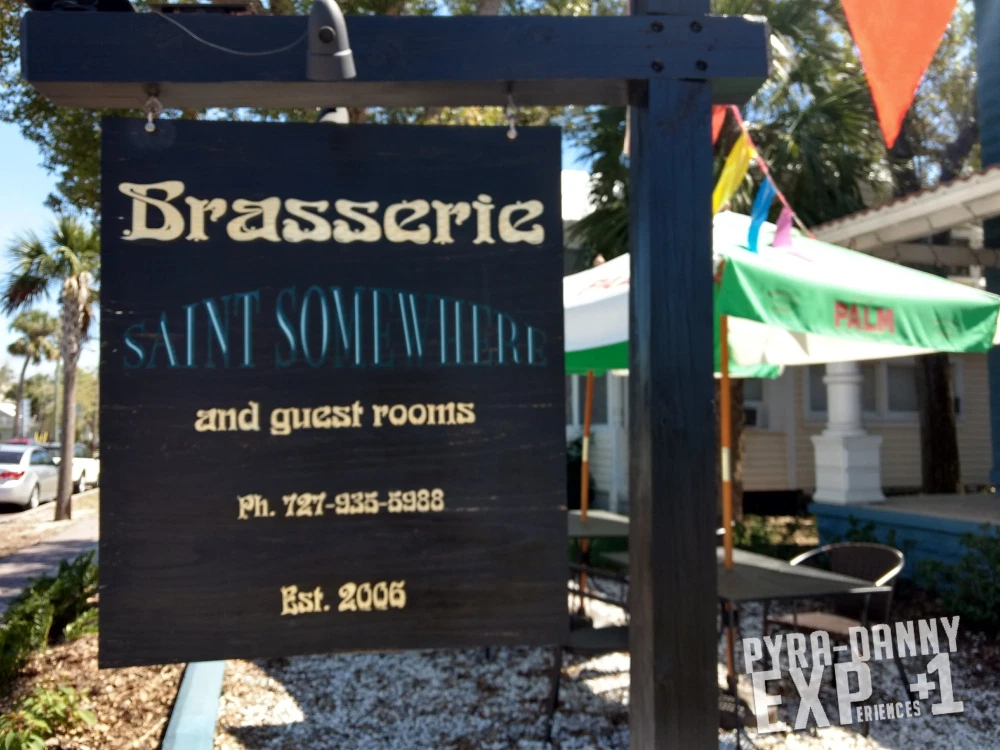 Saint Somewhere Brewing, located in the quaint Tarpon Springs town an hour northwest of Tampa, is the brainchild of Bob Sylvester. The brews from this little location somehow find their way into over a dozen countries. How does a small brewery manage to export so much? While most craft brews just say they draw from the local community, Saint Somewhere Brewing literally uses the community. They rely on volunteers to divide their beer into big, 750 mL bottles (more than twice the size of a typical beer bottle).
After getting mildly lost, Hubs and I found our way into the small warehouse behind Saint Somewhere's tasting room. We were a small group containing a mixture of Sylvester's bottling veteran friends and total newbies. Some were fresh out of college, or retired, or were beer lovers, or preferred wine.
That day were were bottling 'Caitlin'– their Farmhouse Style Ale.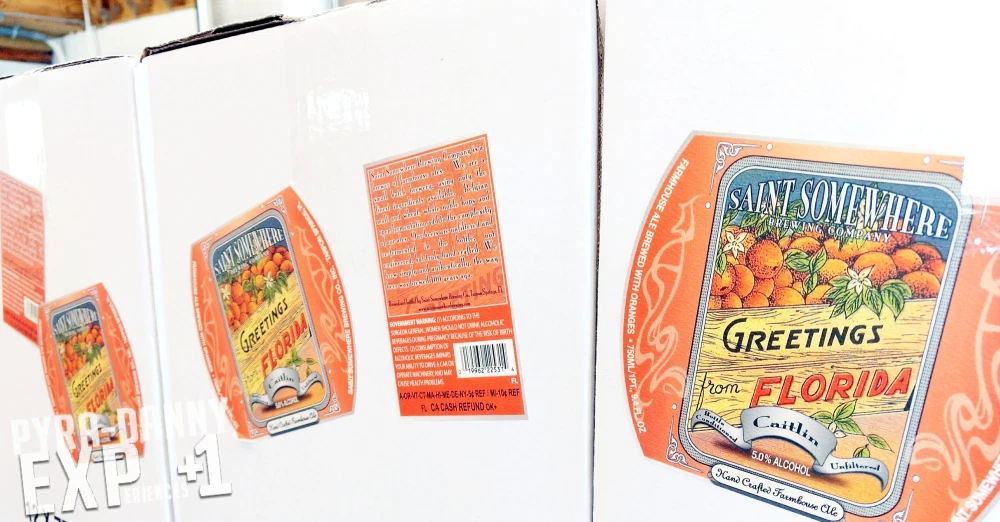 We were each assigned a station, and the bottles would travel between us. Each bottle would get removed from a box, get washed, filled, corked, screwed, labeled, and return to another box. If done right, it took less than two minutes from end to end.
We easily settled into routine as the minutes ticked by. We were able to chat and laugh as a group. My easy task included adding labels to each bottle which just required using a foot pedal.. The air filled with the sounds of soft machinery and music.
Before we knew it, a few hours had passed to our 'half day of bottling' and almost 600 bottles of Caitlin were ready for distribution.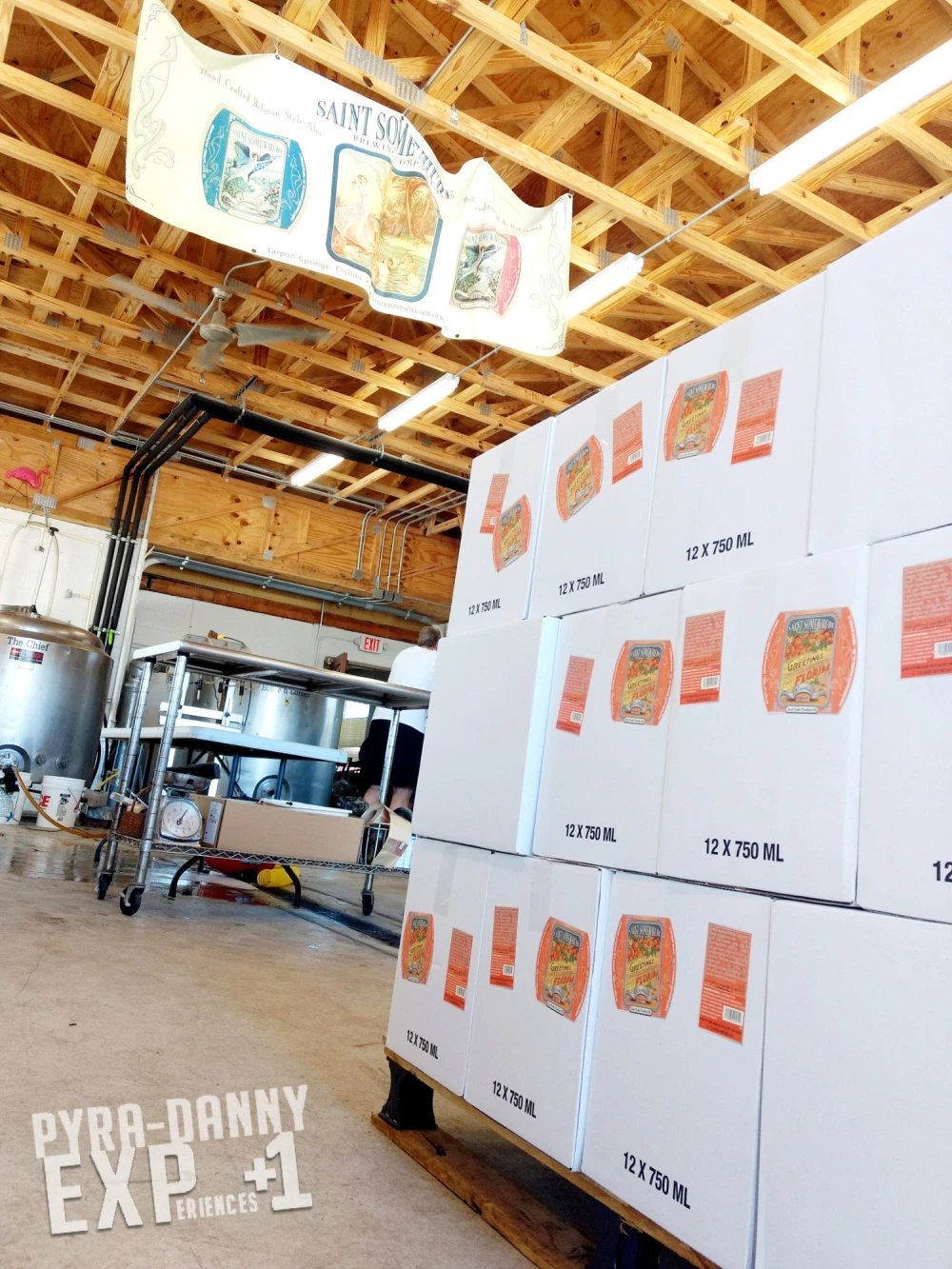 Sylvester had our 'payment' ready– boxes of a pizza lunch as well as a half-dozen different beer from various craft breweries (including Saint Somewhere) to try– and it was the good stuff too. As we each trickled away, Sylvester also gave each of a few bottles of the beer we had bottled that day. It would still be a few more weeks of fermentation in the bottles before we could drink 'Caitlin,' but it was still a great perk.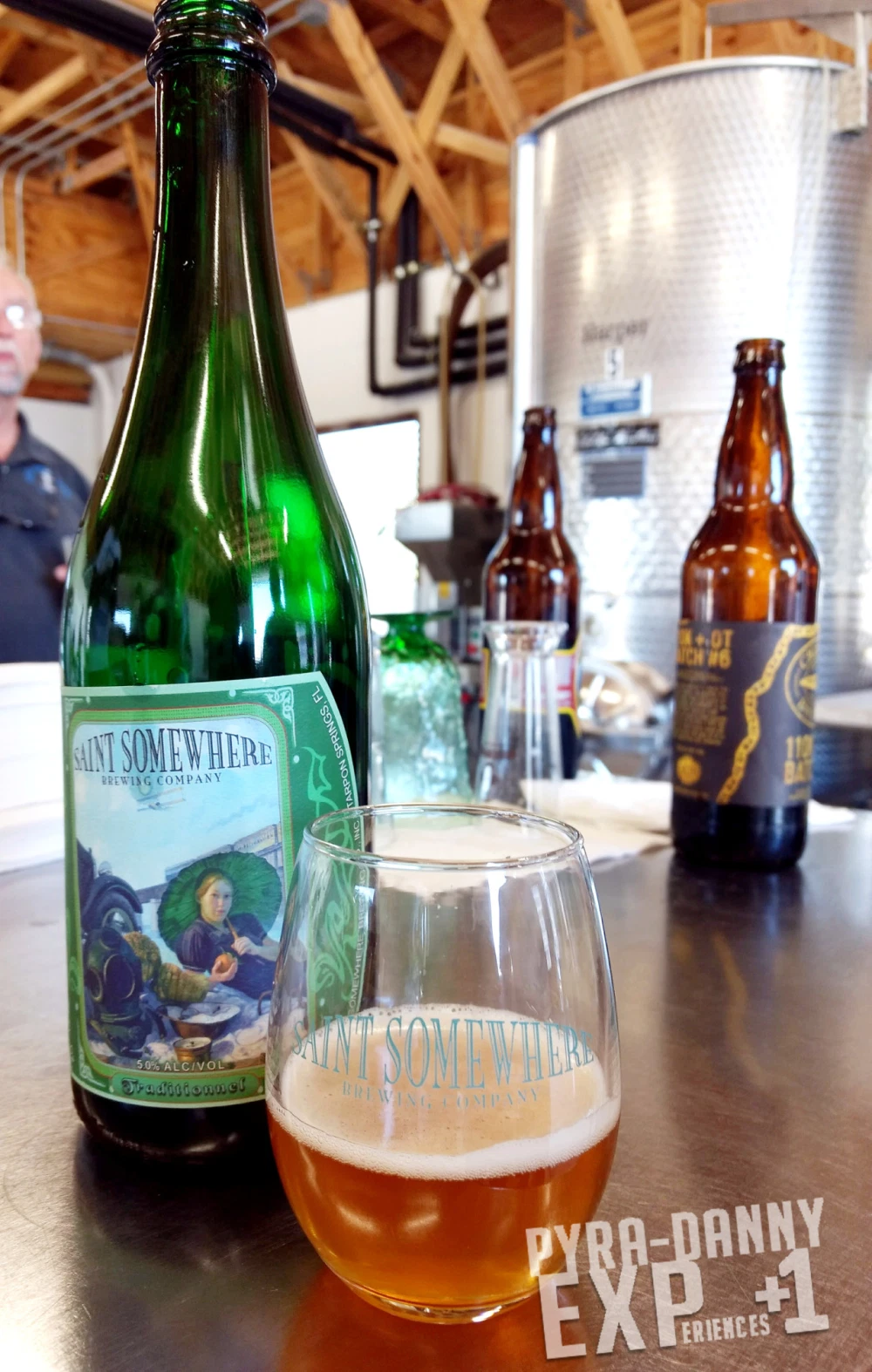 Volunteering at Saint Somewhere was one cool, easy, and tasty experience AND we received some great beer in return.
I'm now looking forward to slyly sharing a glass of Caitlin in the future and looking the drinker in the eye, "Oh? Did you like that? I bottled it myself."