I understood that chant to be a checklist. I came I saw and I conquered.

I arrived at Trashy Treasures late to find its Friday night party already in full swing. The Dunedin Fine Arts Center itself was already an odd assortment of sights starting with the obviously 'under construction' area to the side, but now its front yard was also a flurry of activity. Handfuls of people were streaming out the exit with their hands full of frames. PODS Moving Containers were strewn to one side—was I witnessing an art looting?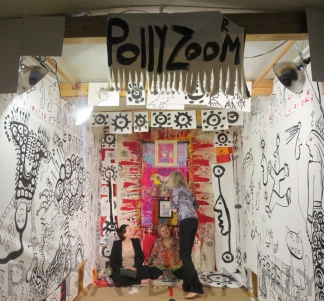 Eat it!
We were starving! Partner Socs and I grabbed food from the two attending food trucks (Tillery's Bar-B-Que and Dos Tacos). Since our stomachs asked for more we also tried noms from the Art Center's own Palm Café.
Contain It!
Those weren't just regular PODS. Each one had been given to an artist to become their blank slate. I loved how there was no fear to actually ENTER the art and admire it from one inch away. (You can't do that at the Louvre—your breathing can sometimes set priceless art works in flames). The artists welcomed your fingerprints on their creations.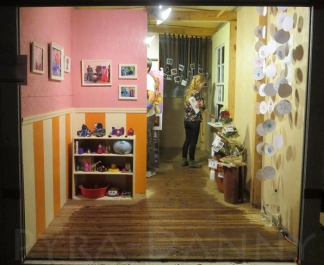 A few PODS stood out to me.
Paula Allen looked very calm and serene sitting in the back of her container which had every inch of it—floor included—plastered in brown or white paper covered with her drawings. Nearby, Nathan Beard's POD was now a mini house with partitioned rooms. In doing so, Beard managed to decorate each room with his own mini artworks of photography, sculptures, and drawings. A couple were also mesmerizing such as the POD were you had to enter past a blackout curtain into her 'room' illuminated by strobes and black lights (I forgot the artist's name). The most memorable to me was also the simplest. Kumpa Tawornprom's POD featured an elaborate wooden sculpture of a dragon slowly spinning from a ceiling suspension.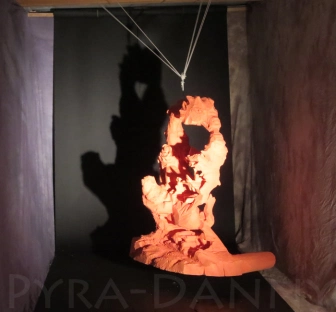 Cool in itself…until spinning it a certain angle allowed the spotlight to perfectly project an outline of Abraham Lincoln's face on the back wall.
Trash it!
At least three rooms inside the Center contained almost a hundred works of art—and were selling every bit for low prices! These Trashy Treasures were all rejected and donated by their owners. It was a garage sale for art! With very limited space in my Studio, I lustfully looked at too many pieces and faced a mental battle of which to bring home.
With the event closing down I quickly bought two small pieces.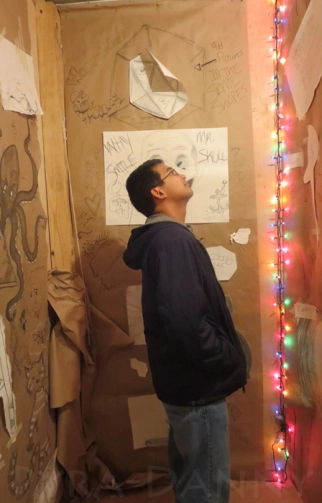 The food truck foods allowed me to Eat it! I stepped in PODS to Contain it! I even bought some art from the Trash It! But I forgot to enjoy that alcoholic art known as Craft Beer. No Brew it! for me. With an army of volunteers and proceeds benefiting the DFAC, this was still one Tasty if not Trashy Treasure.
To view my photos from the event, just click on any of the photos in this article.