In the anticipated battle between bison versus Chevrolet I said a prayer over my car insurance. "It's heading for us!" Car windows were quickly rolled up as if the glass were an assumed bison deterrant. Yes—bison. And until you have three bison walking towards you in your car you will never experience the same fear mixed with awe as though an angry Hodor had decided to hug you. But these bison were like middle schoolers totally ignorant of all the cars stopped around them. The small herd was walking everywhere except roadside. One actually had their fur lightly graze my driver's side mirror as they passed. I could've touched—but enough warnings told me not to. The window stayed up.
Welcome to Yellowstone National Park were bison traffic jams are common.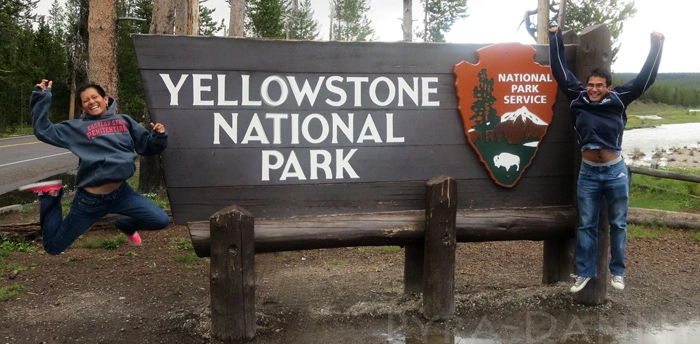 So far no amount of TripAdvisor searching, blog reading, or Google image searching has prepared me for even a single day of viewing nature at Yellowstone.
The little airport at Jackson Hole, WY began the introductions. As soon as I descended the stairs (!) from the plane the cold hit me. It's freakin' June! Less than 12 hours ago I was worshipping the air conditioning unit in my Florida apartment. Did I mention 12 hours? For the price Partner Shoes and I wanted, it took three planes to get us here and after grabbing our luggage and rental car, we still had a two-hour drive through two national parks to get to our West Yellowstone motel.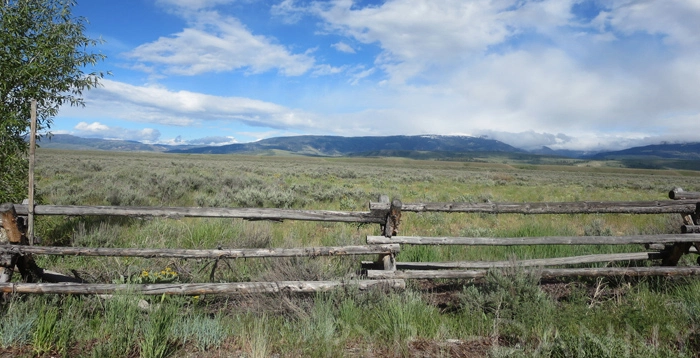 But the drive was anything but boring. We grew giddy upon seeing the herds of bison from a great distance. They were just relaxing on the great plains near Grand Teton National Park. It didn't take long until the natural beauty of Yellowstone consumed and surrounded the road. These Floridians were simply fascinated. Mountains! Rushing rivers! It's amazing what an elevated land can produce. Like waterfalls!—we oohed and aahed over the scenic Lewis Falls and wanted to venture closer than the viewpoint around 100 feet away but piles of snow blocked the path. Yes—snow! In June! I displayed my disappointment by aiming a snowball at Shoe's back.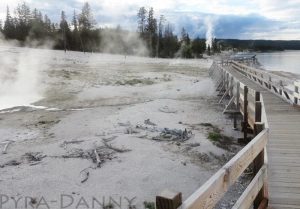 We had our first glimpse of Yellowstone's volcanic base at the West Thumb Geyser Basin. I didn't see my preconceived ideas of a geyser but saw lots of thick, white steam. The basin was a large, tree-less area where the ground was speckled with holes of all sizes. Some holes contained water and others didn't but each one had clouds of steam escaping. In my near frozen state I wanted to escape the cold air and jump into one of the watering holes like relaxing in a comforting Jacuzzi, but many signs warn if you step off the boardwalk you'll most likely explode from mysterious causes or sink into the center of the earth (at least, that's what I think they said) In the distance two deer leaped from the woods, stomped loudly on the boardwalk ahead of us while jostling each other before warming themselves at further hot springs. I was definitely not in Florida any more.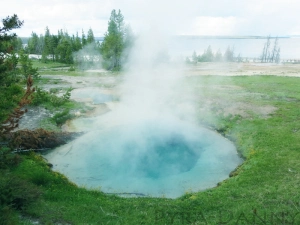 Somehow our two-hour drive turned into four as we kept stopping at interesting points along the way. With cliffs rising above our road to the right and a rushing river to the left, that's when we encountered the bison traffic jam before finally reaching West Yellowstone.
So far I've noticed in Yellowstone you can stand anywhere, dance like the Jabbawockeez while blindly pressing the shutter button on your camera and still have 100% of your photos be postcard worthy. I'm looking forward to spending more time entering a world where I'm not the one in control.
It's my first Yellowstone day with many more photos and adventures to come. Just click here or on any of my photos above to be taken to the album of my Yellowstone introduction.