I love life. I'm a self-proclaimed 'Experiencer.' I love experiencing new things, places, and events both local and far. No matter the situation or location I think everyone can be an Experiencer—and I think it's the secret wish for everyone to be one. That's why I believe everyone should at least be given a chance at it.
Kinda hard to do if you're dead huh?
(Whoa—does this suddenly feel like that SuperBowl commercial with the dead kid who left many viewers thinking "WTF just happened?")
At Tampa's Bay's recent Celebration of Life Rally it wasn't so much a celebration than a teaching of the importance of every life. Instead of using this blog post to debate on Pro-Life versus Pro-Choice (Woohoo that'll be a website on its own) I'll simply say I'm Pro-Life and I believe in every position held at the Rally. But true—I'm human, have failings and it's been difficult, but I still strive to follow this movement.
Inside Calvary Chapel's large lobby, I browsed the tables set up by different ministries. Radio station Spirit 90.5 was present as well as smaller but familiar groups like Tampa Bay Pro-Life Alliance and Restore Culture. Teen-based Silver Ring Thing was rocking out in an adjoining room while promoting its values to the teens.
I wasn't sure what to expect as I sat in the church. I've heard the names of Abby Johnson and Alveda King before but I've never heard them speak. From the sides Abby Johnson (former Planned Parenthood Director) just looked like a school mom dressed in jeans while Alveda King (niece of Martin Luther King Jr.) looked like a mellow southern Grandma.
But as soon as they stood on stage I was blown away. Johnson focused on abortion's tie with contraception—the white elephant in the pro-life room. King tied abortion with other social taboos but zoomed in on the race factor. Johnson was funny as she delivered the stories of her past yet also used her tone to come off as the 'stern mom' who was still very approachable. King was surprisingly very amusing in her feisty, southern way of speaking.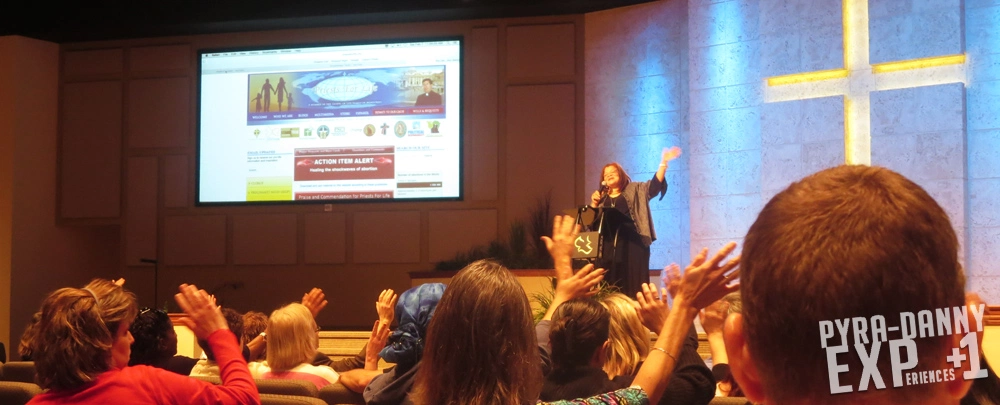 Both women had their own stories of abortion and healing.
But I was most impressed with the strength they had in their stance against other "things that come from the same place as abortion." They managed to tie poverty, gay marriage, pre-marital sex and divorce all into their talk. Using the Christian views both women stood on the same side. And I agree—there's no way to cleanly fight against abortion if you're wishy-washy on those other topics. And I understand how difficult it is to be as strong as those women in those stances… I know. Besides the Christian views Johnson and King also delivered simple scientific reasoning for their positions as well.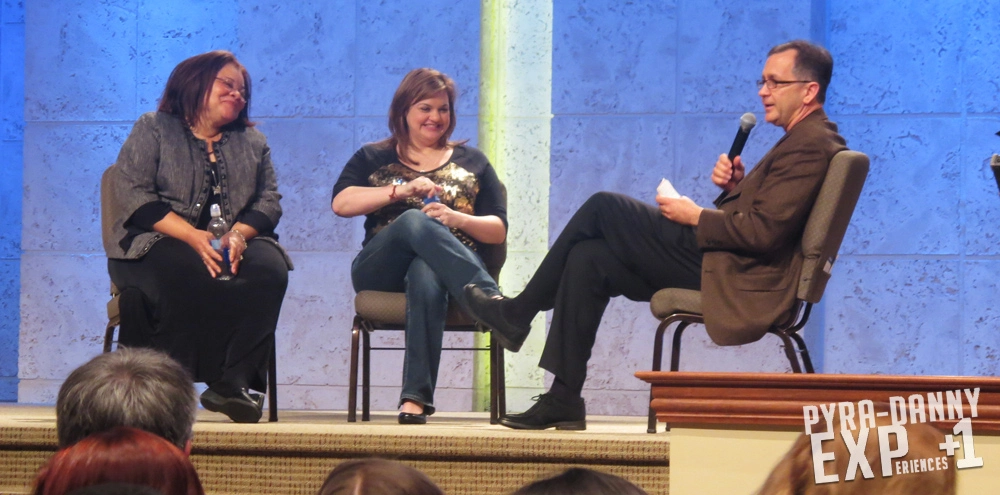 But these women were speaking to the choir so not much reasoning and debate was needed. We were there to learn the importance of each life. Of merely even being alive. Of course Johnson and King were aware there were many people opposed to their beliefs. They also had friends and family who didn't agree on their every point. I say at least those friends and family were ALIVE to disagree on those points.
I left the Rally motivated to stick closer to my conservative beliefs. I'll admit it's difficult because it seems the motto of "do what YOU think is right" has gotten skewed because it seems not many people have learned any more the structure for what's right or wrong. But thankfully I have my God who has transcended man-made structures.
And I've been blessed to have this life so I'm going to experience all that I can from it and work so that others have that same ability too.
Celebration of Life Rally
February 7, 2015
Calvary Church in Pinellas Park


St. Petersburg, FL