Holding a Catholic Christian conference at Sin City seems like an iffy idea at best. In this day and age, isn't that like throwing a Welcome Home party for a rehabilitating drunk by waving a vat of sangria under his nose?
Catholics are definitely allowed to gamble and drink—free will and all that jazz. But during this CFC Singles for Christ Conference I met many people that weekend, and there was not one rebel who gave me the impression of wanting to go to a strip club or anything kinky like that. The world forgets… we're SFC… we're late 20's to 40's even. We make our own money. We make our own decisions. At this age that means we've made the conscious decision to attend a strict-o Catholic conference paid with our own money. So taking time off of work and paying that much money, most likely we're a group of adults who really do want to learn more about God. And most likely we're with friends who won't tempt us to do all that ugh stuff.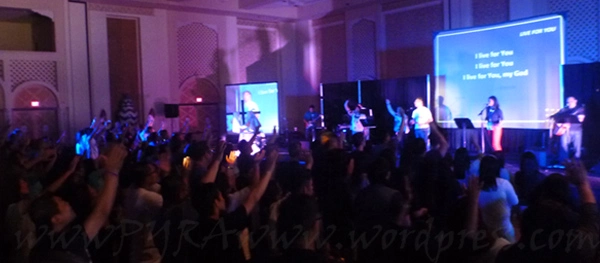 True that. I wish I could explain more about the backgrounds of Singles for Christ (SFC) or the rest of its family ministries, but I'll just say it was a very spirit-filled weekend. Through several talks we learned about growing our relationship with God by being a witness. I've also heard the craziest sharings out of any CFC-related conference I've been to: a very lively Buddhist convert, a single mom struggling to turn her life around, and a severe car accident victim among others. Each one realized God was the way through which to overcome obstacles.
Many of the worship songs are borrowed from worship bands such as Hillsongs or CFC originals. But WOW, when you hear the SFC band's guitar start with the opening riffs and the harmonies of the singers exploding out of nowhere… powerful stuff. The music really moves you into an experience where it just sounds like it's only you and God surrounded by a hum.
I've met some of the most talented people through this ministry: dancers, speakers, tech crew, musicians. Based out of the Philippines (which explains all the Filipinos running around the conference) many have come from a Philippine background of families who pushed them to show off. It's even more awesome to see they are now using those talents not for their own gain but for God.
Disclaimer: No photos for the following. Sad face. Did I mention the scores of attractive men there? Yes– cute. AND they are at a freakin' Christian conference after all! Either they enjoy paying hundreds of dollars plus a plane ticket to meet wifey materials or they really are attending to also learn about God. These guys had good guy / good husband / good friend written all over them. Although we are called "Singles" for Christ, we definitely aren't some matchmaking ministry. ("Singles" as in single-minded for God… or being an individual for now until marriage or other vocation)

Sorry- I realize this is a very scattered blog post Although it's been two weeks, I'm still so energized by this conference. Rather than type it all down for others to learn about God, I want to get OUT THERE and start building up my own Florida Singles for Christ ministry. I'm experiencing a renewal. I want to ride this wave of renewing my love of God and wanting to learn more about Him (time to stalk God!) and I only pray our relationship grows stronger.
Click on any of my photos to visit the conference with us AND all the touristy stuff we did afterwards. Most of the focus of these photos are on my own little Florida posse.