Roller coasters and Halloween? Double thrill time!
In October, Florida's theme parks celebrate Halloween by handing out candy to costumed kiddies (a la Disney World's Mickey's Not-So-Scary Halloween Party) or trying to scare guests through sight and sound (Universal Studios' Halloween Horror Nights)
Having been to Busch Gardens' Howl-O-Scream many times (and working in it as well) I already knew the best times to visit were the 2nd and 3rd weekends AND preferably on a Thursday or Friday. The lines are much shorter resulting in better scares; the scareactors aren't as tired because they're still fresh to the job AND it's much scarier when you aren't constantly fighting hordes of other guests to breathe.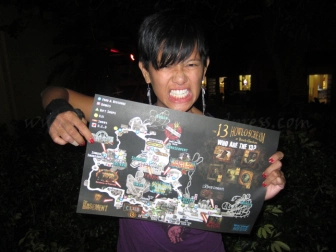 But did Howl-O-Scream always end at 1am? No way! My group was still able to experience a lot in the 5.5 hours of HOS, but we didn't get to visit EVERY house and EVERY major roller coaster (Yes—we've been able to do that before)
Are you thinking of visiting? Here's my Saturday trip report:
Ultimate Gamble: Reversal of Fortune
Winding through rooms of a casino (wedding chapel, bar, slot machines, etc) you'll run into the occasional werewolf. The werewolf costumes were mildly distracting. AHHHH! Wait… what was that thing that just scared me? A wolf? I think? Oh wait… now I'm not scared anymore. Yeah—that's how half of it went. There were a few cool scares here from "above." Hee hee.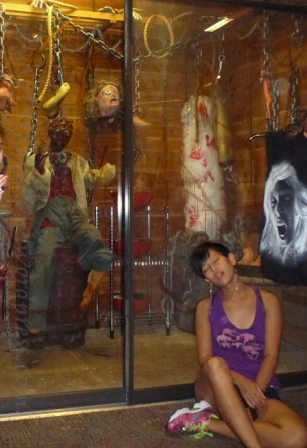 Zombie Mortuary
Although good enough, nothing really stood out. It wasn't bad—the scares were typical. The scenery contained a lot of funeral home decor. Nothing very memorable though.
Blood Asylum
What a deceptive line! There's actually TWO rooms the line winds through INSIDE the building. I thought this would be cool because of the intro video you watch while in line; albeit the lowest quality pre-show video ever. The organizers of this house went too crazy throwing blood-stained mannequins around. It actually lowered the scare factor of the house because of how obviously fake the wounds and stains on the mannequins were. On the other hand, I enjoyed the creepiness of the crazy-talking psychiatric patients.
Death Water Bayou
This was my favorite house because several well-hidden actors resulted in some very good scares. The coolest scare came from a seemingly all-black room adjacent to your path when an actor on a bungee cord shoots out and ricochets back almost instantly. (One of my friends knew it was coming—she had seen him scare those in front of us—but she still dropped to the floor hiding her head when he sprung out). There's a couple "I don't understand why this in my path" moments too. The early rooms here also get a prize for being the best and most realistically decorated.
Booo. We didn't get to visit The Basement, Circus of Superstition 3-D, nor the Nevermore houses. 30 minute waits prevented us from scoring more.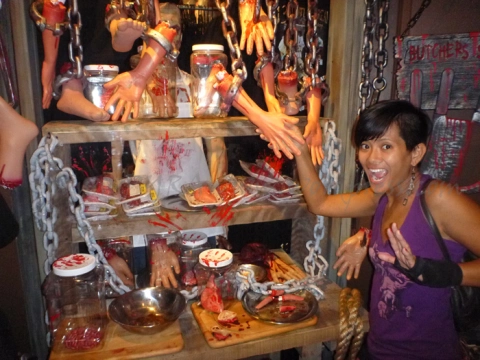 But there weren't lines everywhere. There were almost ZERO wait times for all the rides. (Yes—all the roller coasters were running) At 20 minutes, the fairly new Cheetah Hunt roller coaster received the longest wait… and totally worth it. It has taken down Seaworld's Manta as my favorite roller coaster.
We also conquered three other roller coasters: Sheikra — dangling you for a few seconds before dropping almost 90 degrees; Montu – flying under the smooth track; and the wild-mouse fun Sand Serpent.
We had to watch Fiends—it's tradition (Plus we know the breakdancing mummy). With its new location in the Desert Grill the venue can now hold more people AND allows the actors to actually perform IN the crowd. With the show changing its tried-and-true formula, costuming of long-time characters, and removal of traditional songs, I thought I wouldn't enjoy it as much. I was wrong.
Fiends is just as stupid, raunchy, and sexy as ever in its tour through pop culture. My friend who's never seen the show almost had a heart attack when the nurses appeared in their skimpy uniforms, pink bras, and thigh-high leggings. For my lady friends, the show's stupidity was worth it when one of the shirtless, buff actors turned and vibrated his butt to the music. Among the show's victims were Justin Bieber, the Harlem Shake, and even the "What Does The Fox Say" song.
Although we didn't get to see everything, it was still crazy fun. Howl-O-Scream will not give me any terrified, sleepless nights, but it gave us enough memories to chat about. Sad face– I didn't take any good HOS photos.
Thank you Wiregrass Shops for allowing my group of four to enter this event for free!