Pouring rain, drifting fog and a crowd full of zombies, clowns, and man-eating plants couldn't stop me from having fun. Howl-O-Scream just reeks of that giggly atmosphere all under the guise of a CURSED theme. Scary? Kinda. Instead of dwelling on that never-ending debate on "Which Florida event is scarier? Howl-O-Scream or Halloween Horror Nights?" (see my old response here) I'll focus on the bottom line—I had a lot of fun. Here's why.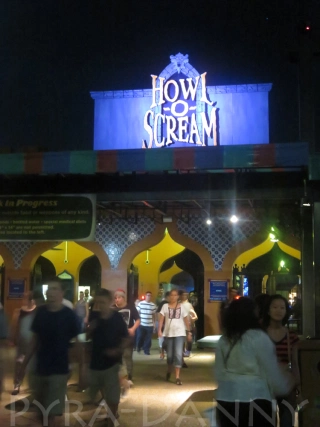 With a lower budget and no ties to movies (compared to its eastern neighbor), Howl-O-Scream has instead been getting more creative recently and I'm really liking the shift. Looking back, most of the ideas seem silly and simple—but this is what memories are made of! Armed with two free tickets (not a bribe—I WON them from a Wiregrass contest. Thank you!) BF Shoes entered HOS during the 2nd Friday of its 2014 CURSED year.
TIMING AFFECTS EVERYTHING
What's scarier than a snarling clown? Waiting in long lines!! To max out your HOS fun it's best to go when there's less crowds. Seriously—nothing but good comes out of that. The further away from Halloween you go the less crowded it will be (Unless it's the very first weekend which tends to be a 'preview/insanely-low-priced-admission' weekend bringing in as much crowds as Christmas eve mall shopping) THERE'S MORE SURPRISES = With less people In front of you, the element of surprise won't be ruined because everyone in front got scared first. FEAR IN NUMBERS = Sometimes I'd lose the person in front of me. AHHHH it felt like it was just me against a haunted house full of scares. SHORTER LINES = self explanatory. This goes for both the houses and the rides. Not only did we go the 2nd weekend of HOS 2014, but heavy rains kept out more crowds yet by our 9pm entrance it was clear skies. Despite the late entry we were STILL able to visit every house, watch the show, and take it easy all without buying the Quick Queue.
HOWL-O-SCREAM HOUSES
OoOoO so what scared me out there? Although the commercials were eerie, the actual CURSED area consisted of a mountain of old electronics watched over by gremlins wearing tights. (Gremlins do like electronics right?) But what does that have to do with a curse?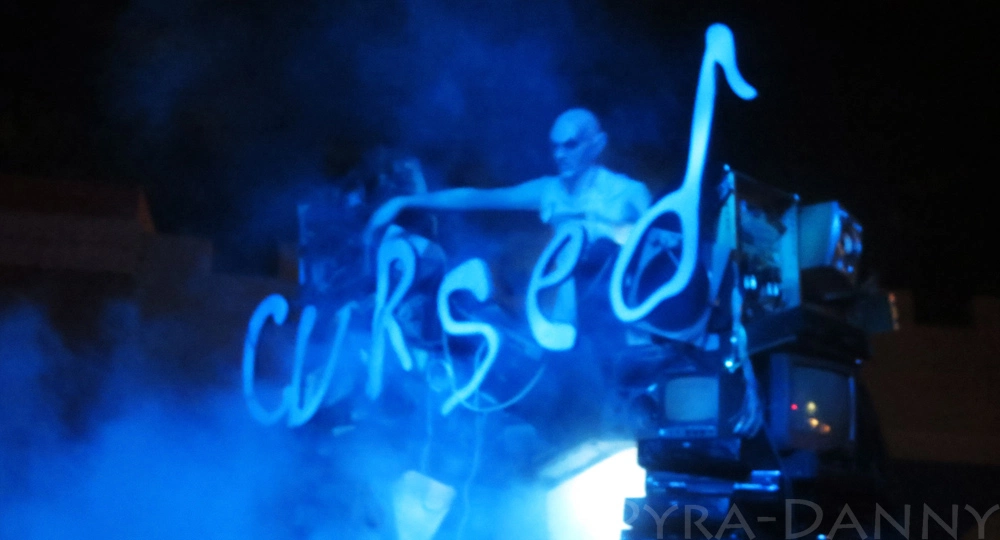 There's enough descriptions of the houses peppering the internet so instead I'll mention anything that stood out to me. If a review isn't mentioned it's not because the house was bad—every single house made me leap a few times—but some houses had that extra OOMPH.
ZOMBIE CONTAINMENT UNIT 15 – simply and surprisingly fun. This new addition isn't really a house but a warehouse containing zombies you have to shoot. After being split into groups of four, we were each handed a futuristic, plastic toy gun and released into the warehouse where you could render the charging zombies immobile for a few seconds if you shot at the light on their chest. Through the sirens, smoke, and crates it wasn't complete chaos as the fences directed us through the undead reaching from both sides. Even though it wasn't difficult- you could probably have walked the entire maze without ever firing and still be okay—there was something insanely fun about pretending to be part of the interaction and fighting back. I still felt fear whenever I came face to face with a zombie yet raced through like an action hero unfazed by my surroundings.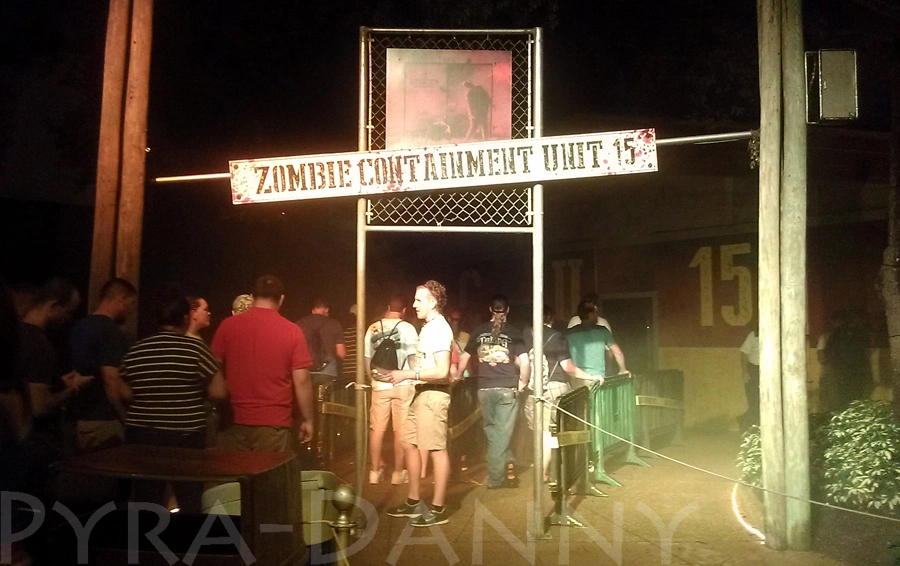 DEADFALL – This is the second and final 'new' house. The majority takes place in a Victorian-esque garden. Most of those you'll meet are the creepy, happily psychotic variety. Notably, I got startled from several large plants—really—Little Shop of Horrors anyone?
DEATH WATER BAYOU (escaping the Cajun curses), BLOOD ASYLUM (a psychotic killer loose in an asylum) and THE BASEMENT (killing and grinding up humans to make meaty meals) were good but not show-stopping. Both Blood Asylum and The Basement contained too many obviously fake body parts and blood it was almost distracting however I enjoyed tiny moments of The Basement more. The Basement contained a cool trick of forcing a guy into a stew amidst gluttonous chomping of human meat; the result turned my stomach into a vegetarian for the duration of the house.
THE EXPERIMENT is this year's go-alone house. We held onto our money and skipped this upcharge.
ZOMBIE MORTUARY – From death to vengeance this was a mostly typical zombie paradise but there were a couple really good surprises resulting from the scares appearing over a doorway or at my legs.
CIRCUS OF SUPERSTITION – 3D glasses? I almost groaned aloud because past 3D houses in my HOS experience have been a waste of creativity. This ended up being one of my favorites not only because it used the disorienting aspect of the glasses well but the 3D effects blended well with the circus theme. Real clowns hiding among mannequins were a blurred together. My biggest and best scare came from this house—I won't ruin the surprise but let's just say it leapfrogged at me…
FIENDS (SHOW)
Normally I get some good LOLs from this HOS staple ripping on pop culture but this year it seemed every joke between the potty-minded Igor and Dr. Freakenstein only captured mild "hehes." Perhaps it's because the longest running joke there revolved around selfies. (I have nothing against the act but the multiple mentions of it bordered annoying) This time around Igor is looking for love. Once again the dancing was well done and straddled a thin border between contemporary and sexy. The naughty nurses in their pink wigs and bras stole many photo ops. When did this show totally get rid of its talented singers? Ah well, it wasn't a deal-breaker but all the 'singers' lip-syncing while holding a mic seemed silly.
THE SCAREZONES/ROAMING HORDES
Due to the threat of rain, most scare zones were devoid of scareactors but still spewed fog, eerie music, and flashing lights. However, the roaming hordes were in full swing ensuring you may run into the crazies even while waiting to buy ice cream. The best ones were perfectly disguised as bushes. Another particular group used an ice cream cart in a funny way…
GO WHILE THERE'S TIME
When you throw in the dance club by the entrance, scattered DJs, and plenty of thrill rides Howl-O-Scream delivers a lot for your admission. Now for a tiny scaredy-cat-Pyra confession… Although the scares chased me I handled it much better this time. The last time I entered a Halloween theme park event with BF Shoes we weren't even in the 'talking' stage. Now not only did I have a human shield permanently attached to me, but I had someone to throw as bait if I wanted to run the other way… haha jk.
I apologize for the lack of good photos… it's soooo hard to really capture the essence of this event.