Everything was so… great! Chicago's skyscrapers loomed over, surrounded, and cast their shadows on my face. They didn't seem so daunting from inside the plane. The Floridian in me quivered. No city of this size (and height) existed in the Sunshine State. But no… we were going to conquer this city!

BF Shoes and I had been looking for an affordable flight to a place we'd never been before. Not only was Chicago unknown territory for us, but we only had four days– we decided to be total tourists on the beaten path. Ready? GO!
FREEZING THE FLORIDIAN
Our landing coincided with an unusually sudden cold front for November. Just four hours ago we were basking in 70 degree Florida temperatures. Now snow flurries laughed in our faces in the 30 degree temps. No wonder the flight was empty… Using Lyft, our more-Pakistani-than-English-speaking driver brought us from Midway Airport to our AirBnB home-from-home. I gazed in awe at the skyscrapers zipping outside the car before we landed along the Riverfront.
God bless AirBnB! Outside our window 30 floors up, we had an excellent view of the Riverfront below framed by impressive buildings and surrounded by falling snow. Wait… forget the view for a moment… we were starving! To add further irritation, we became lost walking the sub terrain streets of Chicago—what the heck was this?!—it's like a gigantic tunnel BENEATH the action where you can also pass through and park. Eventually we stumbled into our first taste of Chicago food. Despite being a chain, Giordano's is still Chicago-based and welcomed us with some classic Chicago Deep-Dish Pizza.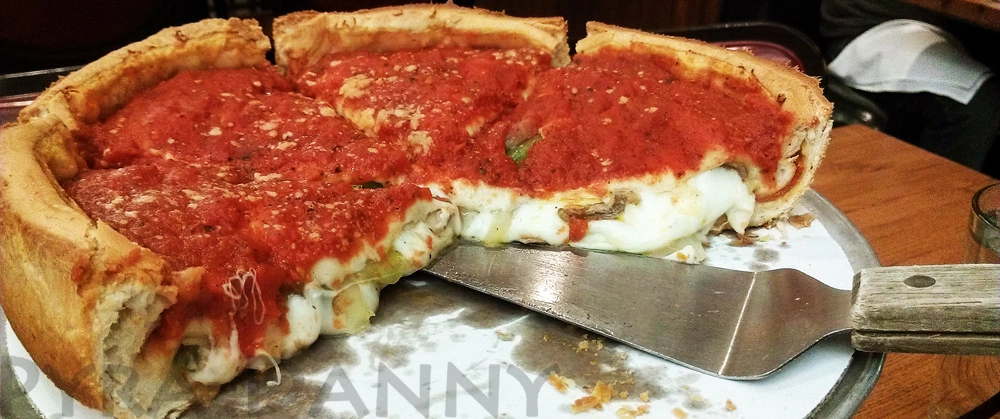 CURIOSITY AND THE CHICAGO CULTURAL CENTER
The next morning, a sign labeled 'Visitor Center' beckoned us into a large building. Although the tourists' exhibits weren't vast, curiosity pulled us around the corner and into the Chicago Cultural Center – a community area scattered with small galleries, NPR ties, and meeting tables. In an upstairs ballroom we were treated to young contemporary dancers entertaining the curious audience. All of this was housed inside a vast, historical building with grand carvings in the archways.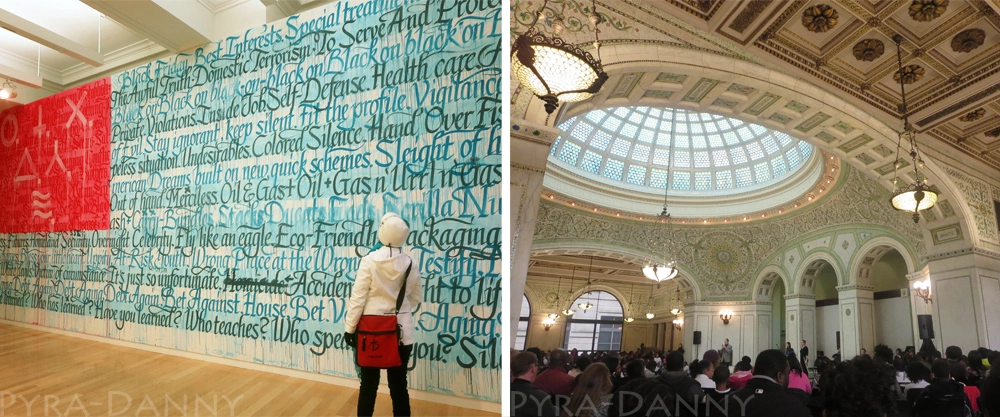 A MILL OF THRILLS- MILLENNIUM PARK
No visit to Chicago is complete without attempting a creative selfie in front of Cloud Gate—aka 'The Bean'—that iconic, large, kidney-shaped art installment covered in reflective metal. Don't worry, you won't be alone. After using too many megabytes filled with every angle of The Bean and the surrounding skyline, we visited other residents of Millennium Park. Further south Red Bull featured a pop-up gallery dedicated to sculptures created entirely from its cans—with some free Red Bull for drinking naturally.
The grand, concert field (with an impressive stage) was empty during the visit and a nearby grand fountain stood empty. Guarded by expressionless faces carved into tall thin panels (a modern day Easter Island) an empty lot stood between building-sized screens playing various faces. During the season, water spews out of the mouths from the screens and into the lot for visitors to play in.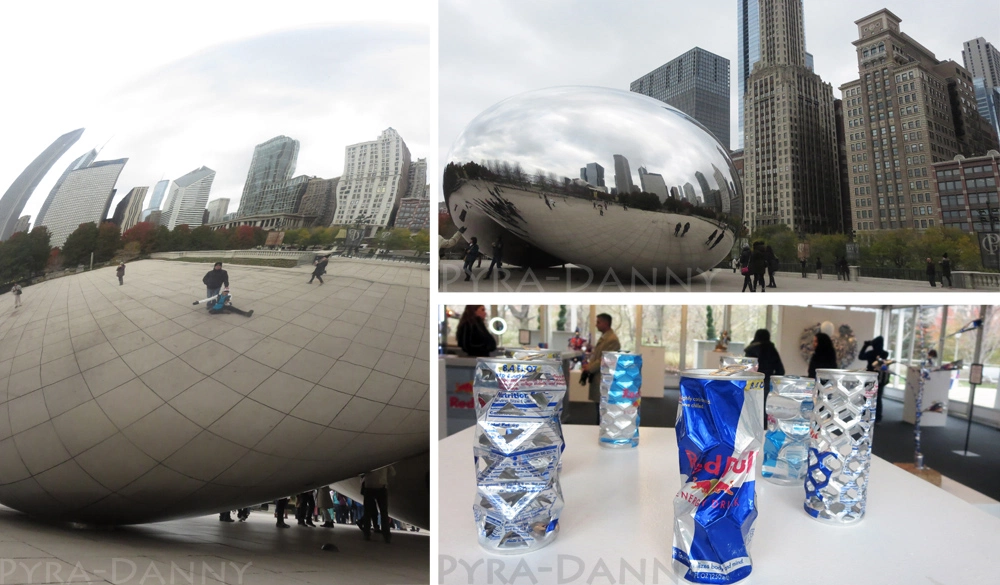 EAR POPPING NOT OPTIONAL- SKYDECK* (WILLIS TOWER)
One minute. That's how long it took the elevator to bring us to the 103rd floor of the Willis Tower (formerly tallest building in the world but currently 12th). While grand views of Chicago can be seen from all the floor-to-ceiling windows wrapping around the floor, the real attractions are the three 'skydecks'—glass boxes jutting away from the Tower allowing guests to get surrounded on four sides by the view. Chicago is… vast! By visiting Skydeck on our first day, I really got to appreciate the city's greatness and felt more eager to go back and immerse myself in what I could see.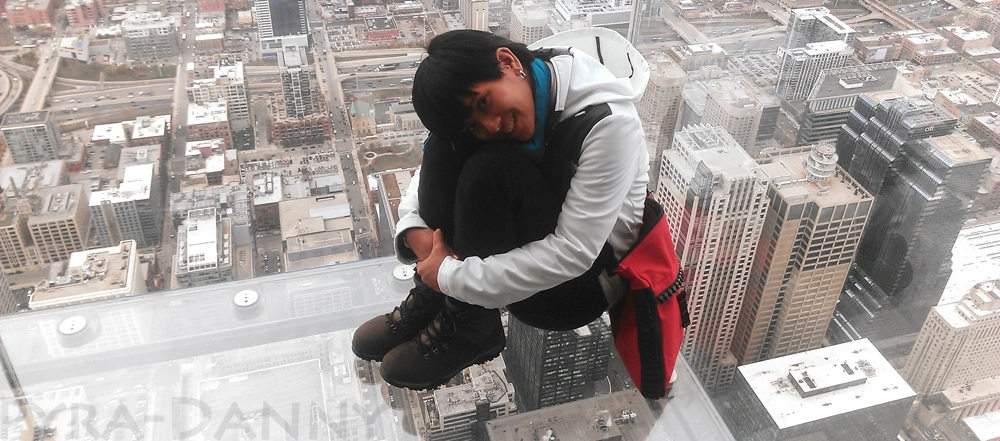 Hungry, we stopped at the nearby Pierogi Heaven to nosh on steaming Polish Sausages surrounded by creamy Sauerkraut, Fried Onions, and Mashed Potatoes while also nibbling Pierogis stuffed with Potato and Cheese or Beef and Spinach.
A GHOST TOWN OF RIDES– NAVY PIER

Mostly closed for the season. Then again, what mad soul wanted to ride a Ferris Wheel into the source of the snow flurries? All the brightly lit rides sat idly and cast an eerie glow on those walking by. Only the large building housing the Children's Museum contained life. The restaurants and shops inside were open but the only thing catching our attention was the large, dark greenhouse in the back. We left quickly. The best part of Navy Pier during this season were the great views of the Chicago skyline pushed against the water.
WINDING DOWN THE DAY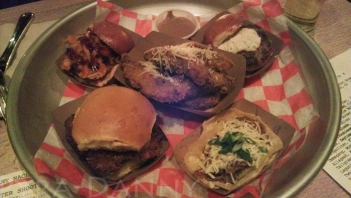 I immediately loved the vibe at Henry's Swing Club. It was loud, fun, and hipster where the art on the walls extended to the art in the food and the servers. With most food offerings being less than $4, you're tempted to order a lot and it was a great way to taste many culinary delights. Among our tray sat mini Burgers (bigger than sliders) filled with Teriyaki Pork and Kimchee, Fried Chicken drizzled in Honey, and Lamb topped with spicy Tzatziki sauce.
Afterwards we sampled a Beer Flight from nearby Rock Bottom Brewery and Restaurant. Although this brand was also a chain, the Beers were still made in-house, the brewery was the closest to Downtown, and we craved Crafts.
Walking home, we ran into the Chicago Tribune building where large stones from important locations were embedded into the walls. We were delighted to find a rock labeled from Corregidor in the Philippines. Represent!
Walking everywhere made us feel like we had been in Chicago forever. The day had been more packed than expected. I quickly fell asleep with the twinkling lights of the city spread outside my window.
*Admission to Skydeck was part of our purchased Chicago CityPass which allowed admission to five distinctly Chicago venues at a discounted rate. Keep watch as we use up the rest of the CityPass.
I'm an experiencer. Not a foodie or a traveler. Give me the experience.
Twitter: @Pyra_Danny
Instagram: @Pyra_Experiences
WordPress blog: wwwPYRAwww
Fotki Photos: Pyra-Ako