What scared me most about Chicago? It wasn't fear of getting mugged or lost (although every area appeared safe and organized). I feared taking public transportation. In Florida, public transport is limited to universities and between Disney and hotels. But I was visiting Chicago where even the locals take it. When in Rome…
I ended up being worried for no reason. Armed with a Ventra (which works like a debit card and can be purchased from any station), our Google Maps app displayed where to board, which bus to take, AND estimated time of arrival. It was so easy to swipe my Ventra once inside and to signal the driver if we were exiting at the next stop.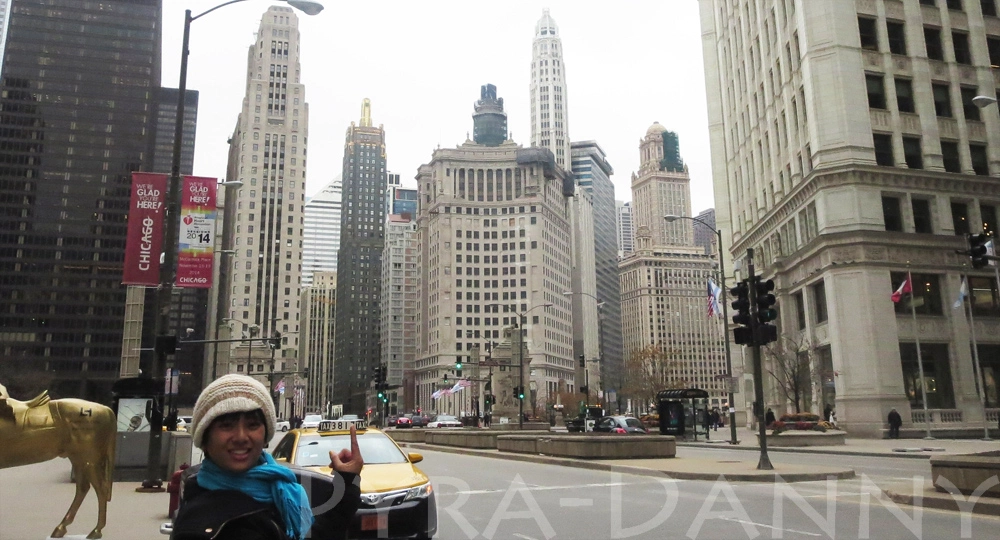 FIELD DAY AT THE FIELD MUSEUM*
The first and biggest mistake was realized once we entered the Field Museum. I've completed museums in many historic cities within three hours. But Field Museum… freakin' five times larger than any museum I've seen! The lobby alone looked like the center of a California shopping mall. We had arrived late. Would we still have time to visit another in Museum Campus?
Inside Ancient Egypt the linoleum and cement walls gave way to aged stone and hieroglyphics. Wait—why were floor-to-ceiling glass suddenly covering some of the stone walls? Then I realized—those stone walls were real! Ancient Egypt contained two rooms transplanted from the 5,000 year old tomb of Unis-Ankh, a Pharaoh's son, in Egypt and the museum didn't want curious fingers to damage the history. It was a time trip! Suddenly the Field Museum became a more intimate adventure.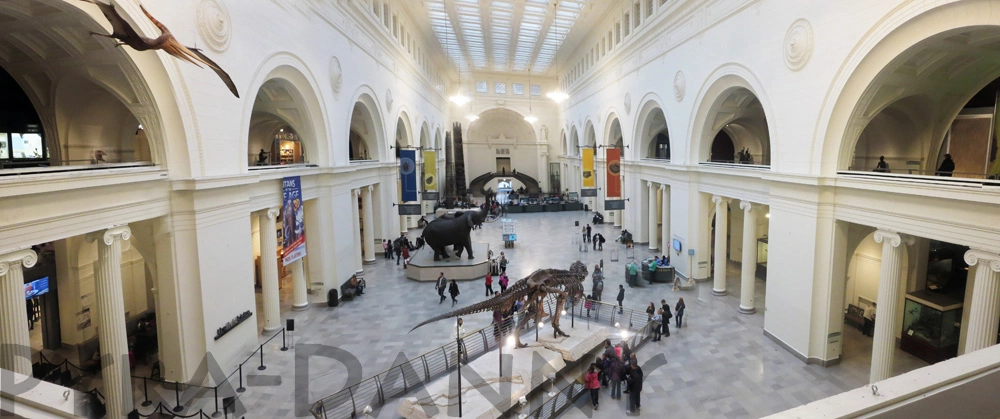 Time further reversed as dinosaur fossils stared back at us from glass cases. We watched the creation of the world before it reached the current state of civilization. Another area housed artifacts from the Native Americans. But not everything was historical as the special exhibit The Machine Inside gave interactive elements to show how joints, muscles, and physics allowed living beings to move.
While BF Shoes was helping a bird display to fly I glanced at the time and saw we only had three hours before all the museums on the campus closed. Despite visiting less than half of Field Museum, we reluctantly ended the time there with photos next to the Museum's most famous resident—Sue the T-rex skeleton in the lobby. While walking towards Shedd Aquarium we passed by Kim and Carlo's Hot Dog stand where grabbing a Chicago-style Hot Dog stuffed with Tomato wedges, Pickle spear, Pickled Peppers, Onions, and Celery Salt was necessary for our talking stomachs.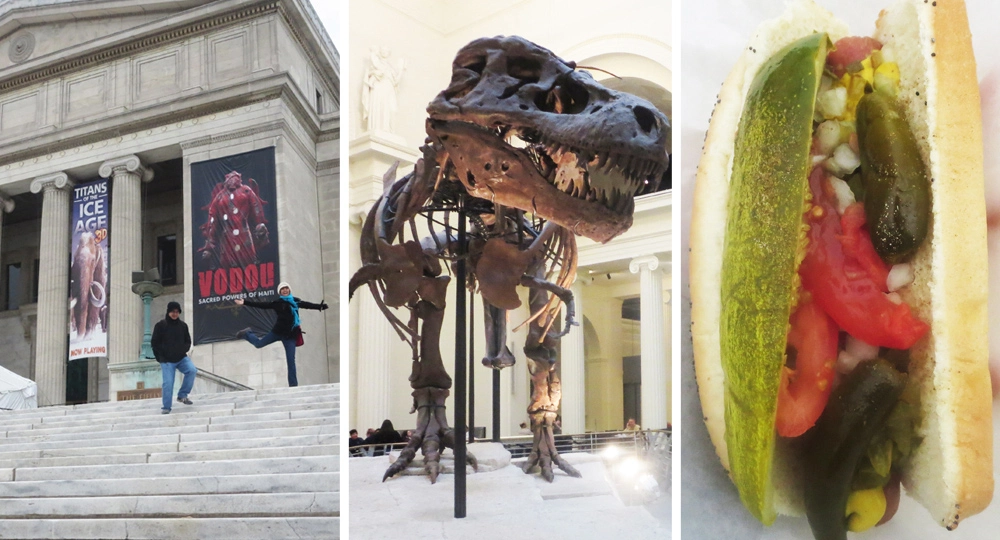 SAILING THROUGH SHEDD AQUARIUM*
The Shedd Aquarium was more familiar than Field Museum because it was similar to others around the country. A large central tank housed hundreds of colorful creatures. If you're lucky you'll see a scuba diver inside feeding. In other tanks we gaped at an insanely large snake draped around branches like a fashion scarf. We struggled to find the octopus. We were surrounded by water animals of all sizes, shapes, and colors.
The best tanks were furthest away from the central hub. At Jellies more attention was given to jellyfish than I've ever seen before: tanks dedicated to babies, youth, and even jellyfish that looked like bobbing mushrooms. Inside the Abbott Oceanarium, belugas circled through their giant home while several seals lounged nearby. At Wild Reef, we were transported to the exotic fish who call the reefs off the Philippine Islands home—the motherland!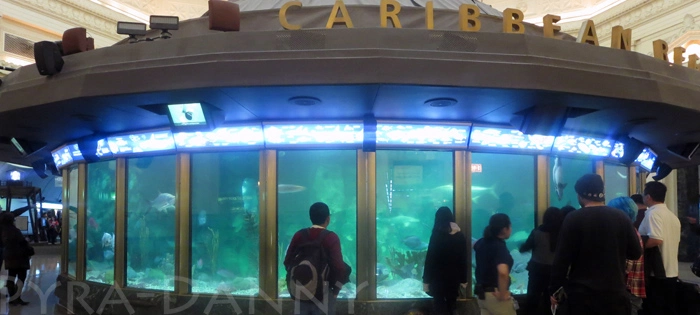 WINDING DOWN WITH FOOD AND DRINK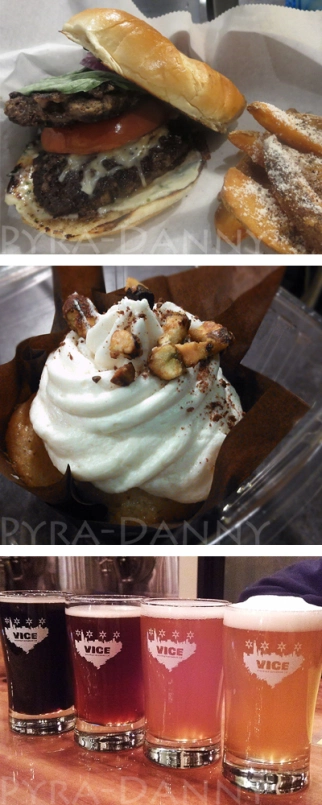 Our cold, hungry selves walked the short distance to Ameritalia where, as the name suggests, modern Italian dishes crash into American favorites. A Parmesan-crusted Meat patty topped with Provolone Cheese, Roasted Tomato and Basil became the focus for my Parmburger while BF Shoes noshed on a Meatball and Pepperoni Calzone. A Tiramisu and a Cannoli Cupcake finished our meal.
Vice District Brewing was packed with chatter and board games. Unfortunately, being busy also led to being completely out of two Beers. Yet we were wowed at their service—how many breweries have table-side service, automatically gives you water and with self-serve popcorn?
The bus ride back was uneventful but the dark sky made 8pm seem closer to midnight than it actually was. Along the way a stop at Bockwinkel's, a small but packed grocery store, provided many deli options but also gave us fresh fruit, eggs, and vegetable soup for tomorrow.
We went from Egypt, to dinosaurs, to the Artic and the Philippines— and there was still time to hit the school books that night. No wonder sleep came easy. We were in Chicago. This was how we relaxed.
*Admission to Skydeck was part of our purchased Chicago CityPass which allowed admission to five distinctly Chicago venues at a discounted rate. Keep watch as we use up the rest of the CityPass.
I'm an experiencer. Not a foodie or a traveler. Give me the experience.
Twitter: @Pyra_Danny
Instagram: @Pyra_Experiences
WordPress blog: wwwPYRAwww
Fotki Photos: Pyra-Ako