Merely approaching Chicago's Museum of Science and Industry (MSI) was like approaching the whale that ate Pinocchio. It was a giant- calm yet imposing on the outside- all while concealing the chaos inside. BF Shoes and I had tried to reach the Museum early because it was the furthest CityPass attraction and we knew there was a plethora of things to do inside. Once the lobby and central hub opened up, it was like entering a beehive. It seemed every family in Chicago had gathered. People upon people. Voices both high and low yelled. Chaos!

Excitement hit before I even touched my first exhibit. The grand lobby featured an enormous, decorated Christmas tree. Surrounding the giant tree were dozens of smaller trees decorated to represent different countries. Alas the Motherland wasn't present, however I especially enjoyed all the plastic waffles dangling from Belgium's tree.
MSI* AND ORGANIZED CHAOS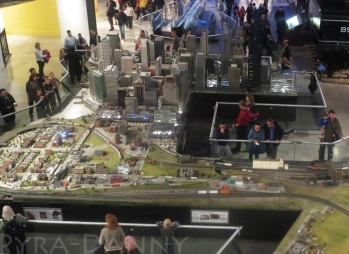 I typically run into this problem at similar museums—many times the non-static exhibits don't work. Or they're so worn out that merely interacting makes me fear I'm picking up a new disease just by touching. But MSI was impressive. Not only did everything work, but there were way MORE activities. Bigger and badder. This wasn't just some large-scaled middle-school science fair. The typical themed areas were present: flying crafts, weather, the body and the earth. During those moments we saw a three-story vortex of wind form indoors, experienced an aerial battle via flight simulator, and watched newly hatched chicks struggle to walk.
But wait—there's more! The miniature train exhibit was still larger than my apartment and came complete with mini Chicago and Seattle skylines. For an extra charge guests could design a toy then watch as robots created it—we decided to program a robot to dance specific moves instead. Yesterday's Main Street allowed guests to walk past recreated store fronts and old vehicles from America in the early 1900s. The cyclist in me enjoyed viewing the Art of the Bicycle including the innovative cardboard bike.
But nothing compared to touching history. At the Space Center Apollo 8 (first manned craft to leave Earth's orbit) stood a mere few feet away! Perhaps the most memorable exhibit at MSI began with smaller exhibits telling about submarine warfare during World War II. Suddenly you turn the corner and OH MY GOSH WHAT THE—a submarine the size of a Publix was looking straight at you. U-505 was the first German u-boat captured by Americans during the War. Although there were more things to read than touch here, I was treated to so many angles surrounding the U-505 capture (the fears of the American team, their lives now, photographs of, the equipment captured, etc) and even how the submarine came to Chicago. ('Coincidently MSI was seeking a submarine to display'). I came to enjoy the craft in front of me more and more.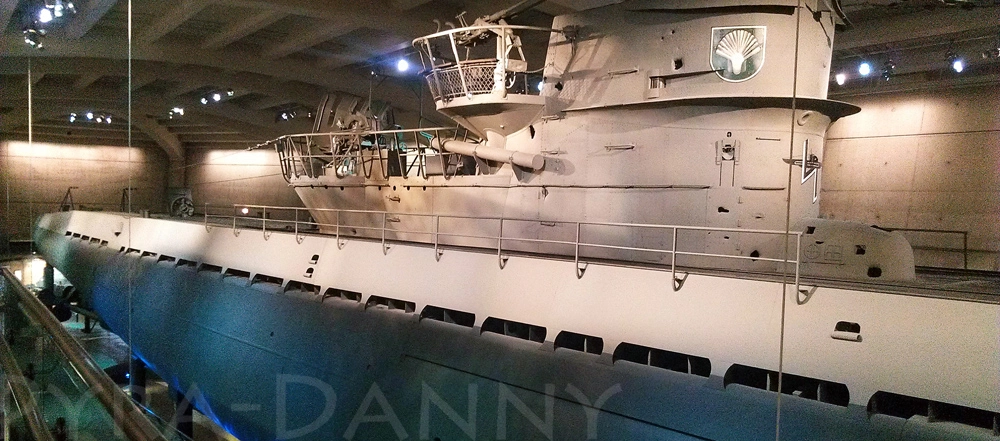 FINAL DINNER
A shared Pasta Alfredo from MSI's cafeteria kept away hunger as we returned to our AirBnB for a workout inside the gym overlooking the Riverwalk.
Our last dinner in Chicago involved BF Shoes and I becoming the cooks. Gyu-Kaku delivered delightful Japanese appetizers with a spin as well as a variety of raw proteins for us to cook on our table's grill. Besides tasty, plentiful and fun food, the service was top-notch. Not only was our server attentive despite also serving a nearby table of 15, but a busser not even assigned to us asked if wanted our picture taken after watching us struggle to take a selfie.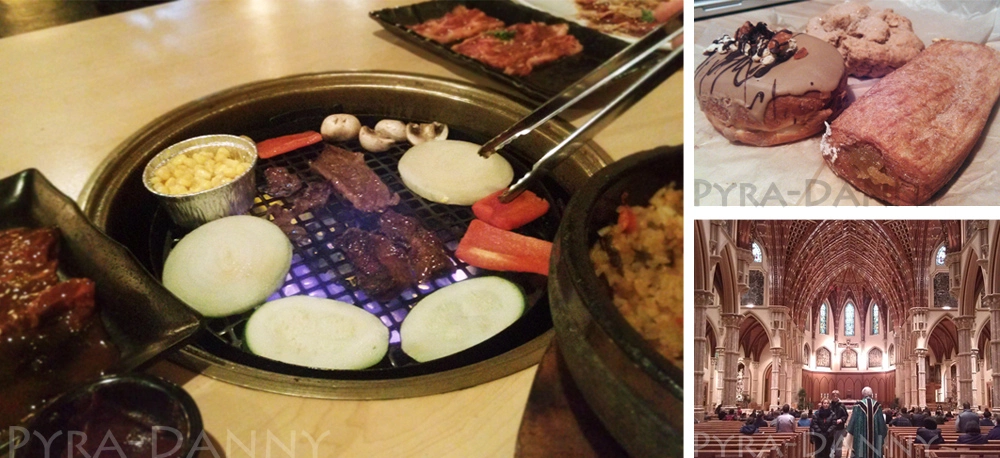 SMALL BITES AND BYE
The next morning BF Shoes studied amidst the distracting din occurring inside Sunny Side Up Café. Meanwhile I honored my Sunday Catholic obligations inside the Holy Name Cathedral—grand in size and impressive in its archway carvings. On the return journey, we picked up a Beer and Pretzel Doughnut, Scone, and an Apple Cinnamon Doughssant (not sure how this is different than a Cronut) at the West Town Bakery. Although the appearance and offerings felt like a hometown haunt, the service didn't impress so we hurried out.
Although vacation was ending, Chicago wouldn't let us go easily. It was still a five-block  walk to a station while dragging our luggage. After melting at the touch during our whole visit, the snow flurries had finally been allowed to gather in tiny mounds on the sidewalk. It was my first time riding the Metro and I was still allowed to ogle Chicago's landscape as it ebbed and morphed every minute all the way to Midway Airport.
MORE THAN JUST A 'SECOND CITY'
Our quick, first time in Chicago limited us to tourist areas and only a scraping of Chicago food. Yet even this shallow scratch of the city mixed with that Midwestern friendliness—this is now one of my top cities. Allow me to be cheesy and add it was all made better because I was accompanied by my favorite travel partner, BF Shoes. I'll admit Chicago scared me by being unpredictable, but because of that I learned to just ride the city and enjoy its surprises… and I came out on top.
*Admission to the Museum of Science and Industry was part of our purchased Chicago CityPass which allowed admission to five distinctly Chicago venues at a discounted rate (we never got to use our 5th destination)
I'm an experiencer. Not a foodie or a traveler. Give me the experience.
Twitter: @Pyra_Danny
Instagram: @Pyra_Experiences
WordPress blog: wwwPYRAwww
Fotki Photos: Pyra-Ako