I'm passing you! And you! We were shooting stars zipping past regular souls who strolled by. We were on a mission to conquer. We were at Glowbash. Glowbash had a glowstick theme, was part 5K race/part scavenger hunt and all around a beautiful evening in Downtown St. Petersburg—of course we were in!

Well… kind of. It was like dragging my BF Shoes into a living nightmare. He whined how this race would end our relationship especially after last year's bicycle scavenger hunt race where all the dreary elements really tested us. Hence our team name—Team Breakup. On race day, Ferg's Sports Bar and Grill was a zoomanity of excited participants. One staffer mentioned 1200 registrants although it only seemed half that. Luckily Team Breakup had picked up our race packets the evening prior (providing us with a race shirt, bib, and a few glow gear) allowing us to just wait around for the festivities. Even Friend Ace decided to stop by and hang out even though she wasn't racing.

Finally all team captains were called towards the stage to hear the rules. We'd have two hours to complete any 10 out of the 11 missions. Then pandemonium hit. A stampede occurred as the captains ran over me in a brutal attempt to grab the paper of clues being handed out. I was a confused pinball until I too shoved forward, parted the sea of bonking, glowing head pieces, and grabbed my paper. Between me, Friend Ace, BF Shoes, and our smart phones, we mapped out an attack. Let's go! We hugged Friend Ace good bye and AWAY WE GLOWED. From Central Avenue we went deeper into Downtown. We immediately grabbed a sticker from a Glowbash member at the 635 Central address (the first mission straight out listed the address). Along the way we saw groups of racers mobbing the State Theatre but since we couldn't figure out which mission that referred to we pressed on.
We thought the Princess Martha Hotel was the 'renovated, events building built in 1924' but no one greeted us there with a stamp. We were wrong! Oh wait—a quick search told us the 1924 building' was the State Theatre. Ah- that explained all the racers there. We'll just get it on the way back. Another mission had us photograph ourselves acting out a scene in front of the theater showing Gutenburg the Musical! (American Stage Theatre). BF Shoes and I found an image of the musical on Google images and imitated it. Meanwhile we knew the nearby Sundial center would be the perfect place to find someone with an out-of-state driver's license. Bingo—the first couple we spoke to were from New Jersey and happily took their pictures with us.
The next missions were easy because they all referred to St. Pete landmarks. We grabbed a stamp from the place 'housing artifacts from civilizations 4,500 years ago' (The Museum of Fine Arts) and another one from 'SPMOH' (the St. Pete Museum of History). And sometimes you 'just need to walk off the ___'… the Pier— easily St. Pete's most recognizable building. While waiting for a Pier photo, I noticed one team laughing into their camera as they all leaned into a huge plant. "This is a Bird of Paradise but it's kinda dead right now," they yelled. Bird of Paradise? I glanced at the clues again. Yes! The 'Bird of Paradise' mission was the one we planned on skipping since we didn't know it was a flower (we thought it was a sculpture). Thank you other team! We took our photo there as soon as they left.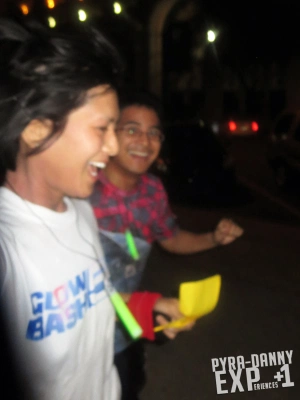 Now that we found the Bird of Paradise, we decided to instead skip the Dali Museum mission because of the distance. We had 7 out of 11 missions completed and all remaining items could be found on the return trip.
Then disaster struck! We arrived at the State Theatre only to have two bouncers tell us "No… we have no stamps for you… we're not part of this race… You have no idea how many people like you we've had to tell…" OH NO! BF Shoes and I retreated to our phones. The clues—built in 1924; many renovations; held many events. What was it? We wasted too much time researching before deciding the worst… skip that mission and instead go to the Dali Museum after all.
ARGH! Complete opposite direction! We passed many glow-stick bedazzled racers yelling encouragement as they reached the State Theatre—I wanted to tell them they were wrong but instead I jogged past them. Eventually we reached the Dali Museum and took our photo in front. We also had to recreate a pyramid pose photo so we completed that as well.

One more mission to go—Tropicana Field—and it bordered Ferg's and the finish line. By then my legs refused to jog longer than 30 seconds. We arrived at Tropicana Field's border just as the race time ran out. Any staff member stationed at Tropicana with a stamp had already left. Defeated, we returned to Ferg's where I showed the Glowbash members proof of our missions via the photos, stamps, and stickers Team Breakup had collected. By the time they handed me my finisher's medal and water I was feeling better and started to move among the crowd of glowing people.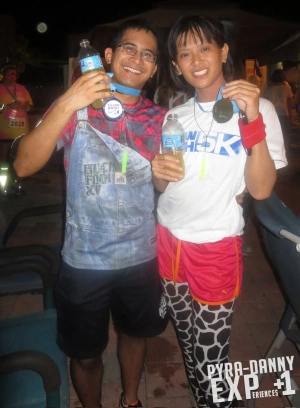 Boooo. Because of that '1924' mistake we ended up completing 5.44 miles. Other racers insist it was the State Theatre—maybe they thought you just needed a team selfie (Read the clue—you need a stamp). I'll never know what building '1924' was. There's no telling where we placed because only the first three teams mattered. We didn't even win the raffle prizes. But we didn't break up! BF Shoes took our glow sticks and celebrated with Burgers just a walk away.
Glowbash – St. Pete edition
March 14, 2015
Ferg's Sports Bar
St. Petersburg, FL