Divide and conquer? Buddy system? Facing a crowd armed with cups and plates I gripped BF Shoes's hand as we surged through. We were going to face this together.

At Yelps Around Tampa Bay hosted by Yelp, businesses from all over the Bay showcased their goods to an eager crowd. Entering the TPepin  Hospitality Centre was a trip itself as the graceful brick walls, dark wood, and grand plants around the parking lot transported us away from our industrial surroundings. But once we entered the ballroom, we were returned to Tampa and all the unique nom-noms only found there.
We entered the longest line by EATS! to sip their Basil-infused Lemon Vodka (what awesome sorcery was that?) and munched on Pork Sliders (hold the bun for me). Green Mint Asian Grill assembled a Peanut-less Salad specially for me yet the dish was still crunchy by the Sprouts and Lettuce paired against the grilled Chicken. Neighbor Ohana featured plates full of mini, gluten-free Cupcakes. Yes please!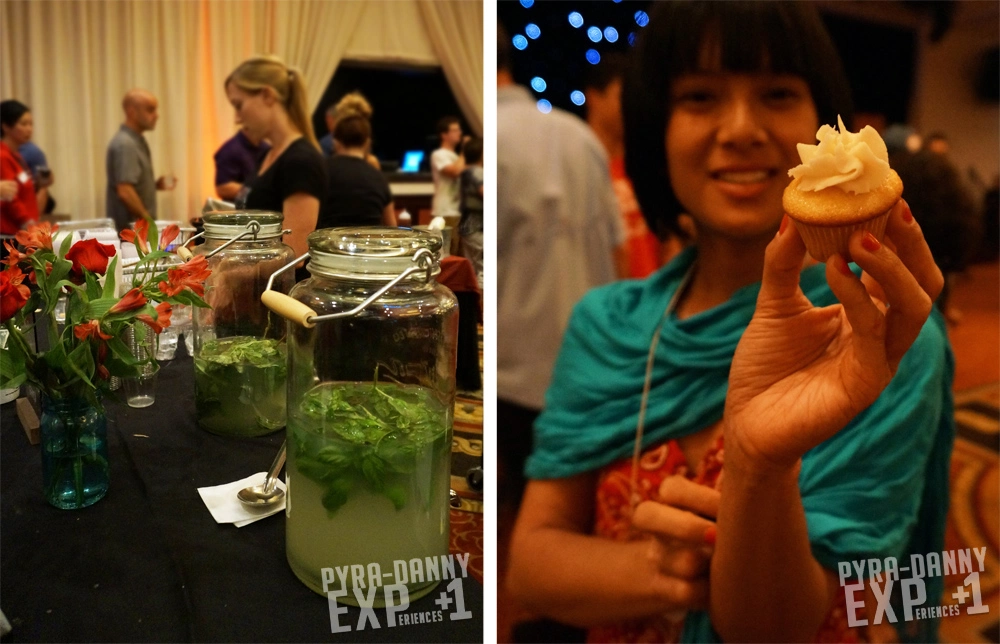 We explored the Ballroom and took samples from each table and left a trail of silverware in our wake. The band Genghis Flan actually got BF Shoes and me to dance some Latin! Okay okay… they played Rock not Salsa but BF Shoes has limited moves.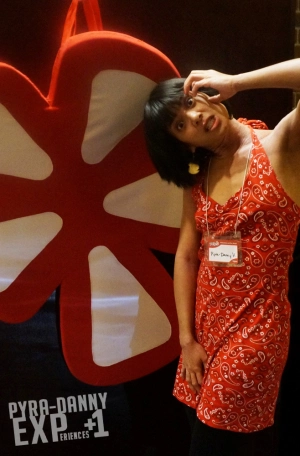 We happily parted with our entry donation to the Children's Cancer Center. It was worth every penny and the charity help was just a bonus. I filled my belly to saturation despite those darn Gluten and Nut allergies blocking me from some porn-worthy foods. Most of Tampa Bay's cross-sections were represented. Probably the only obvious cuisine missing was Cuban food which has a strong presence in Tampa. (Or did I miss it?) Meanwhile we drank Cocktails, took notes of businesses to visit outside of the event, and chatted with the restaurant reps.
We wanted a break so we exited the Ballroom and entered the Patio for fresh air… except it was filled with the scents of Hawkers as they grilled their skewers and Capital Tacos taking orders. Back in the grand lobby we passed the non-food businesses and went to the little Trophy Room / Museum which provided an interesting walkthrough of the history of Budweiser as well as little oddities from Pepin's collection.
I'll admit those first three restaurants (EATS! Green Mint, and Ohana) made great impressions with me but other notable delishs went to the soon-to-be-opened Hawkers (their skewers served with Kimchee) and Station House for its entertaining, bickering bartenders. Thank you Felicitious—I'm a sucker for Espresso served on Ice Cream. And Capital Tacos attracted a consistently long line 'til the end.

Even with 500+ in attendance it never became annoyingly packed. Although the food was sample sized, it would've helped to have more cocktail tables in the Ballroom to set down my drink. But overall this was an awesome Yelp event organized by Brett and his team. I loved travelling around Tampa Bay without ever leaving the building… but now I'm ready to fill my tank and visit for an encore.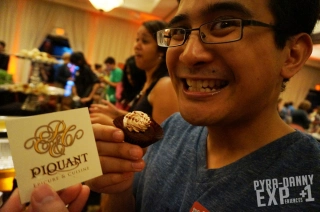 Yelps Around Tampa Bay
At TPepin Hospitality Centre
Tampa, FL
April 12, 2015