On Friday night I questioned the seeming insanity of traveling alone. By Saturday morning I was elated.
Friday–1st day of my trip– was a blur. As soon as my job ended I dropped my car near the airport and grabbed the rented Ford Focus that would be companion for the next few days. After a quick stop at Publix for groceries because… well… I'd rather have snacks in the car than stop every time I got hungry, it was onto the four-hour drive to Tallahassee. Four hours of barely changing scenery. I was all alone and questioning myself, "Why was I doing this?"
My road trip from Central Florida to New Orleans had begun. I was a young lady traveler and I was going by myself. Friday night alone in my hotel room brought loneliness but as soon as I turned west onto I-10 I was re-energized with a list of experiences to conquer.
From Tallahassee it took one hour to enter Marianna and I heard the cavern tours filled quickly so I drove FAST! Suddenly (angels singing) I crossed the Eastern to Central Time change and instantly became VERY early for the first tour (score one for forgotten time changes). I quickly paid to enter the park and then the fee for the tour.

I entered the park with one purpose—to see the caverns. What?! Caves in Florida? They exist! For one hour a tour guide led us below the earth through six different 'rooms.' We learned the history, stories, and formations behind the Caverns. I've been to three major caverns in the U.S. and while Florida Caverns doesn't compare in size, the formations were just as pretty. Of course… no touching! But photography is encouraged so I fired away.
Afterwards I took a hike through the trees where all the people, buildings, and man-made noises disappeared. It was just me (and the mosquitoes). No restaurants. No tourists lines. This was the real Florida.
JOE PATTI'S SEAFOOD – PENSACOLA, FL
After two more hours drive west, a plethora of online reviews brought me to Joe Patti's where the crowd of cars and smell of the Gulf waters prepared me for a treat. This mad house is half market and half deli. Insanely fresh, local seafood. The volume was loud as customers pointed at rows upon rows of fish, crustaceans and more and yelled out orders to the staff. Even cooler—the staff steamed or seasoned their selections. Instead I made my way to the small Sushi counter in the back (yes—random location) for some of the freshest Rolls I've ever had.

This park filled with vehicles from World War II also is in memory of those who served. Seeing these giants up close led me to imagine the tragedies, triumphs, and stories each of these vehicles must've seen during their service. There are many small planes and trucks scattered on the grounds as well as in the warehouse, but the attention grabbers were the USS Alabama and USS Drum.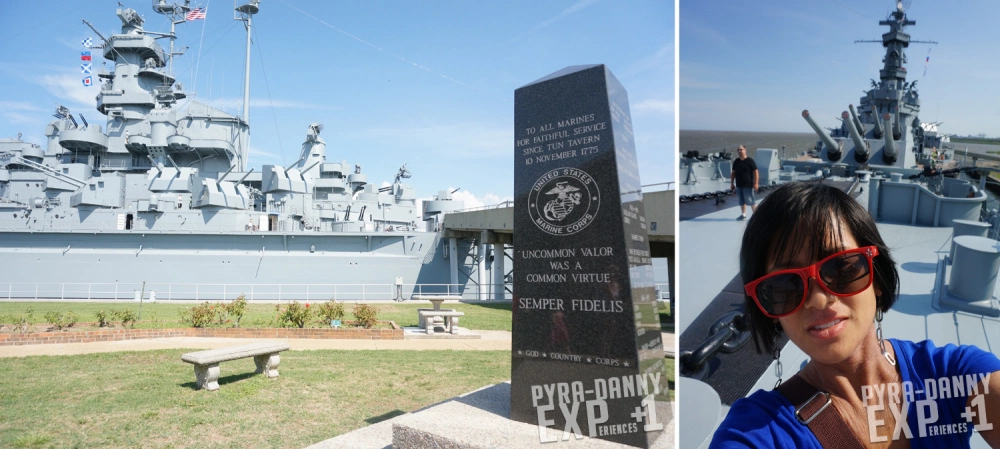 While the submarine USS Drum (SS-228) allowed you to descend below and dance with claustrophobia, the giant ship USS Alabama (BB-60) became an imposing figure floating silently on the water. I followed a paper tour (a little confusing and not very informative) that led me all throughout the ship from the sleeping quarters, engine room, medical areas, and even up top for a view of the whole park. Without AC, the tour became stuffy at times but even thicker was the lingering energy from its history still pulsing through the rooms.
SEARCHING OUT A DESERTED SIX FLAGS – NEW ORLEANS, LA
After two more hours of driving I entered the borders of New Orleans and passed the remnants of roller coasters from the abandoned Six Flags theme park—victim of Hurricane Katrina. Beautiful photography from  Urban Explorers (like Jason Lanier) begged and tempted me- But how to get in? I circled the park twice. The former bus entrance had another car parked next to the gate. Security? Unsurprising since 2014 brought Hollywood producers who used the park's background for upcoming blockbusters. Its only other entrance involved crossing 20 feet of marsh and forest from a nearby neighborhood. I stood in front of said location and stared at the trees before deciding that possible snake bites were not worth the pictures. Fail.
A HOSTEL TAKEOVER
As one of the newest hostels, Site 61 was highly rated with its vintage and quirky décor as a gathering spot for other young travelers like me. The dining hall was filled as they chatted about their experiences with New Orleans and gave suggestions for the newcomers.
BECAUSE I CAN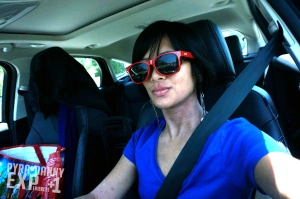 Whew… since Friday night I've driven almost 10 hours between Central Florida to New Orleans. While the driving monotony was getting to me Friday, I was reminded today of why I still went for it—the experiences along the way. There were many undiscovered treasures that would've stayed that way if I had merely flown. Also, I wouldn't even be travelling if I had decided to wait for one of my friends to get time off to have a companion. Time for a good sleep… there's so much to see in the Big Easy and so little time. I know I'll need that energy.
Stay tuned as I deliver more experiences from my trip to New Orleans.