Warning: a few very real and somewhat graphic photos ahead
"Tomorrow. Tomorrow. I love ya… tomorrow," like the little orphan Annie I'm very hopeful for my future. Hopeful enough to sing-type!
A few days after my last post I was prescribed CellCept (gen name: mycophenolate) a low-dosage oral immunosuppressant which I've been taking daily. In addition I was given an antihistamine (gen name: Levocetirizine) to help calm my itching.
This past month has given me a ride.
I was in a miserable place before I went on CellCept: thinning skin, weeping wounds, dryness everywhere. I had heard good things about CellCept. I was ready to rise from the eczema depths…
… and instead found myself in a deeper hole.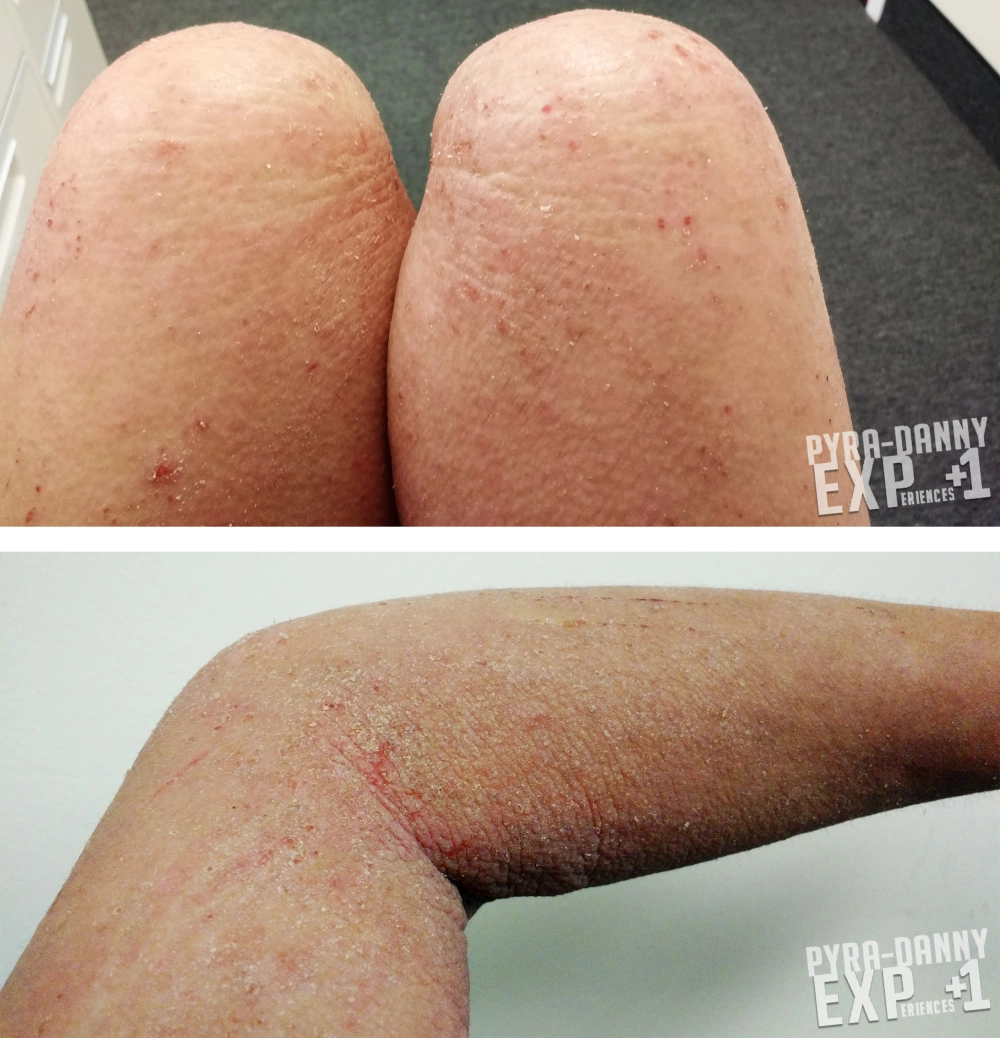 Two weeks into this promising medicine my legs became a wreck. Every morning I hated looking at the mirror because spider-web-like lines of dry skin crisscrossed my body everywhere. Sleeping sucked—my body was strongly emitting heat and having the blankets around would create an insulation of humidity too hot to be comfortable, but then I'd freeze as soon as I removed them.  Adding insult to injury my body was strongly giving off an unpleasant odor that seemed to become more evident as I laid in bed; probably the smell from my weeping wounds. Every few nights I had to change my sheets from it absorbing all the smell. I was a zombie at work living off four hours of sleep a night.
I whined. Why was this happening to me? I was doing everything right. I still followed my skin care routine (all here). I gave up gluten for this??? Online research of CellCept revealed it took some people weeks to notice any change so I clung to that hope.
Now four weeks later there's improvement!
Okay—I'll admit—externally I still look bad. These pictures still seem to show a rather crispy Pyra-Danny. People who haven't seen my eczema journey will throw pity eyes my way mixed with shock. But anybody who can compare me from a months ago will know—this is the best I've been without Prednisone in months.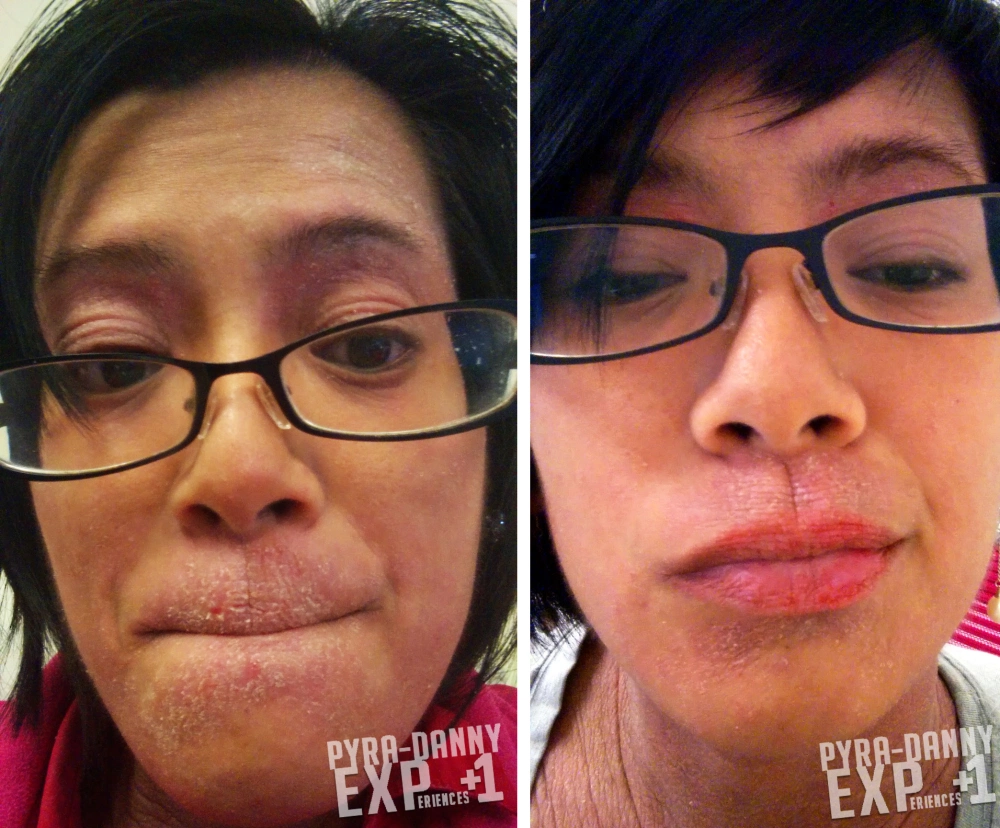 The weeping has mostly stopped. No more hideous odor at night. (I'm getting closer to a good sleep). My skin is thicker and rougher—so it still has that blotchy, pinkish, graying color tint—but at least I don't look sun burnt. My skin isn't so thin it'd break as soon as my fingernail grazed it. Showering isn't as painful as before. Before when I stayed in place too long (my work desk, sleeping in bed, driving in the car) often I would leave a trail of dried, skin flakes. Now I still leave a trail of dried skin… but mostly it's now a fine sandy texture… I consider that an improvement. My body is still sensitive to temperature and certain clothing but not as exaggerated.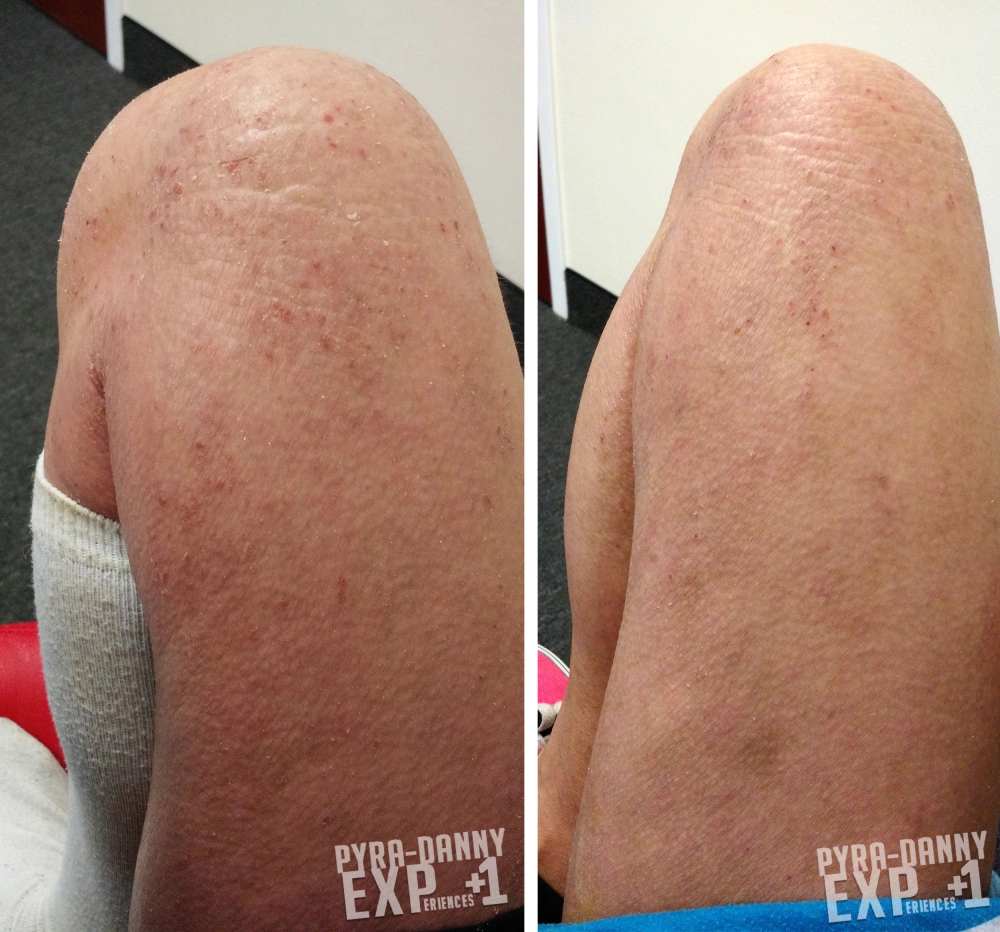 So yes I'm still dry and itchy, but I'm definitely not so miserable. I actually want to face people again. I actually want to work out again. These mental changes are the biggest improvement. I hated being depressed. Of course CellCept still has its worries. Since it's an immunosuppressant I have to make sure I stay healthy because my chances of getting sick are greater. My allergist also warned me to not try and have kids even for a good year AFTER stopping the medicine.
Although the changes have been slow and small, I've seen some improvement during a time when my eczema has been doing the opposite. I'm continuing with CellCept and hopeful for my future.