I never thought during our honeymoon we'd want to immediately challenge our relationship by attempting a sport requiring the full cooperation of us both.
We were going canoeing.
Isolated. Remote. Guided canoeing.
Okay. We probably didn't need the 'guided' part, but it was the only way for us to experience the Rio Grande and enter places we normally wouldn't be able to.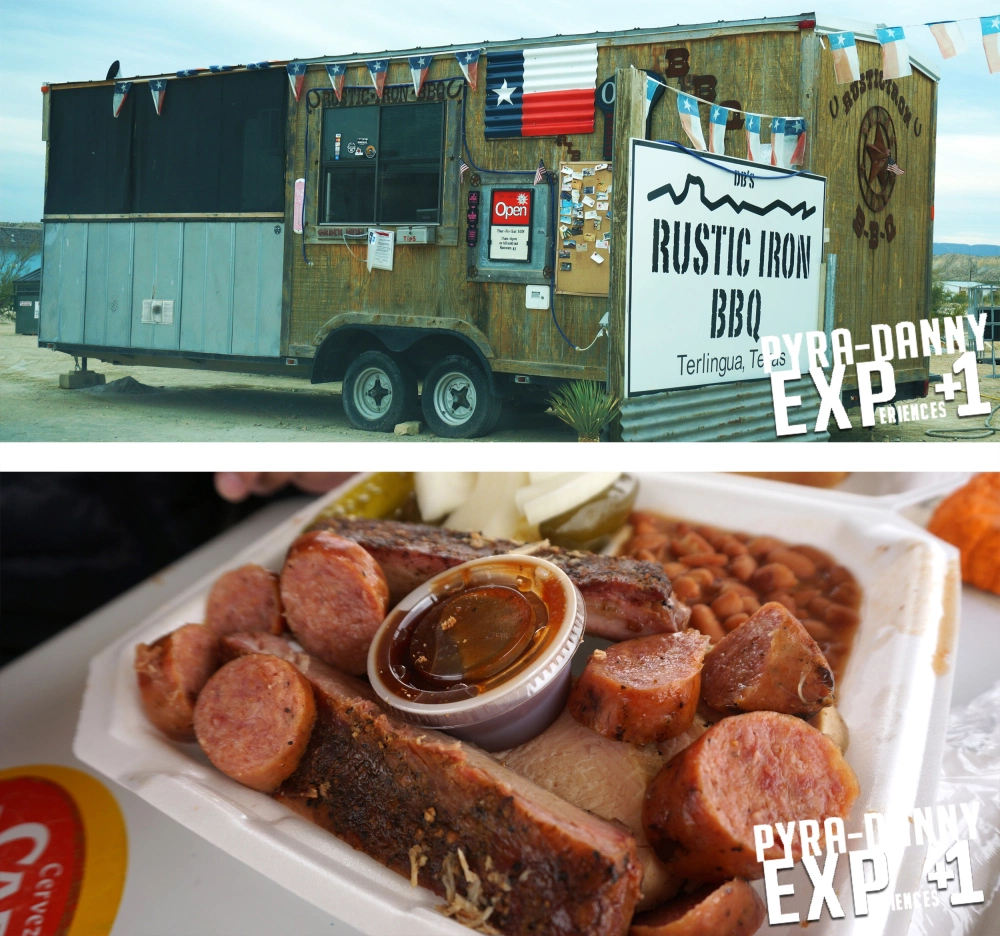 That morning we loaded our bellies with good ol' Texas Bar-B-Que from DB's Rustic Iron BBQ– a food truck we passed many times on our way to Big Bend National Park. All it took was one order to fill Hubs Shoes and I both, but the plate was stuffed with grilled Sausages, Brisket, Ribs, Potato Salad, Bread, and all these toppings. Protein! Carbs! Yes! We were ready to burn it off on the water.
Thick beard, sunglasses, and wearing a floppy hat and bright red Hawaiian shorts, Mike from Big Bend River Tours seemed better costumed as a happy hermit on a remote tropical island… but he was the leader of our three-person excursion. He was patient without coddling and chatty without sounding like a tour guide. We really liked him. And once he entered the water, he solo-paddled his canoe and quickly made our two-person attempt look like two kindergarteners trying to out-throw Lebron James.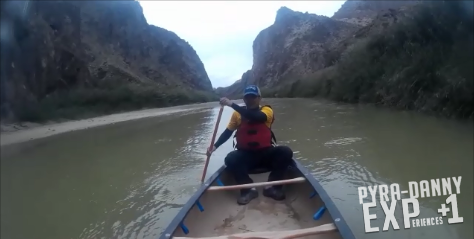 Our drive to the Rio Grande drop took us west past Terlingua and Lajitas until hills and steep canyons had us surrounded at the Big Bend Ranch State Park.
Almost as soon as our truck entered a single dirt path around the hill, we came bumper-to-bumper with another truck. Since we had travelled the shorter distance, Mike was forced to drive backwards… with a truck and canoe rig backwards on a tilted path where going off the trail meant a drop. It took plenty of going back and forth and adjusting just to travel the 100 feet back to the road.
Eventually we made it to the water. Mike traveled ahead always within eye sight which allowed us many moments of just enjoying the surrounding views in silence. We followed the often gentle Rio Grande; relatively shallow, narrow, perfect for a canoe. Even the small rapids we encountered made it seem like the river was trying too hard to be that protective border between two countries… and failing.
We entered the Dark Canyon- an obvious name from the black pigmentation on the sharp canyon walls rising above us. Around a corner a natural beach was revealed and it was here on the Mexican side of the river Mike urged us to park our canoes and explore the area while he waited. Hubs Shoes and I quickly climbed the grassy dunes along the rock and ran along the shore. Even with the Rio Grande nearby, the beach was totally dry yet the ground was beautiful to look at as it had hardened and cracked into a mosaic pattern.
Mike had set up a small table filled with plates of cookies, cheese, and drinks. It was very surreal to see among the landscape. I mean—we would've been totally fine with grabbing snacks from a lunch bag.
We continued on our Rio Grande journey while Mike pointed out surrounding sights including the remains of a car perched dangerously midway down a hill- the remains of a car accident.
While the water may have been too cold for swimming, the chilly air quickly became perfect from all our paddling. We were never drenched in sweat… this was definitely a scenic canoe ride.
Our tour was just a little more than four hours including the drive to and from the location. We vowed during our return trip, we'd return to Big Bend Tours and attempt one of their overnight canoe trips next. Camping along the shore… someday!
Safely back in our car, we drove north to Alpine, TX as dusk approached. Within a couple hours we went from seeing no signs of human existence to being surrounded once more by hipster coffee shops and Chinese buffets. I was already missing Terlingua's open spaces yet it felt comforting to be surrounded by familiarity once more. Our honeymoon in southeast Texas was slowly coming to an end, but it wasn't over yet.
Edit added June 11, 2017: Finally! Here's the (5 minute) combined video of my Big Bend visit footage. I hope you enjoy!
On November 26, 2016 Pyra-Danny and Fiance Shoes got married. This is the 6th part of their honeymoon travels to southwest Texas: Big Bend National Park, Terlingua Ghost Town, Study Butte, Big Bend Ranch State Park, and Alpine, TX.
To read my introduction of taking a honeymoon to this area of Texas, click here. A whole day was dedicated to travel here from Florida (read here) as well as to Terlingua (read here), but we finally saw the southeast area of the Park (here) as well as the southwest (here). We also explored by canoe (this story) and around Alpine (here).