The St. Pete Bike 'N' Eat. 12 miles of biking. Five local restaurants. Free samples… will we survive?
Finally—after always missing the annual St. Pete Bike 'N' Eat, Fiance Shoes and I rode into the event last Saturday armed with our roadies and willing stomachs. The parking lot in front of Trek Bicycle was organized chaos as families, seasoned bikers, and casual riders prepared for this free, foodie bike tour through St. Petersburg.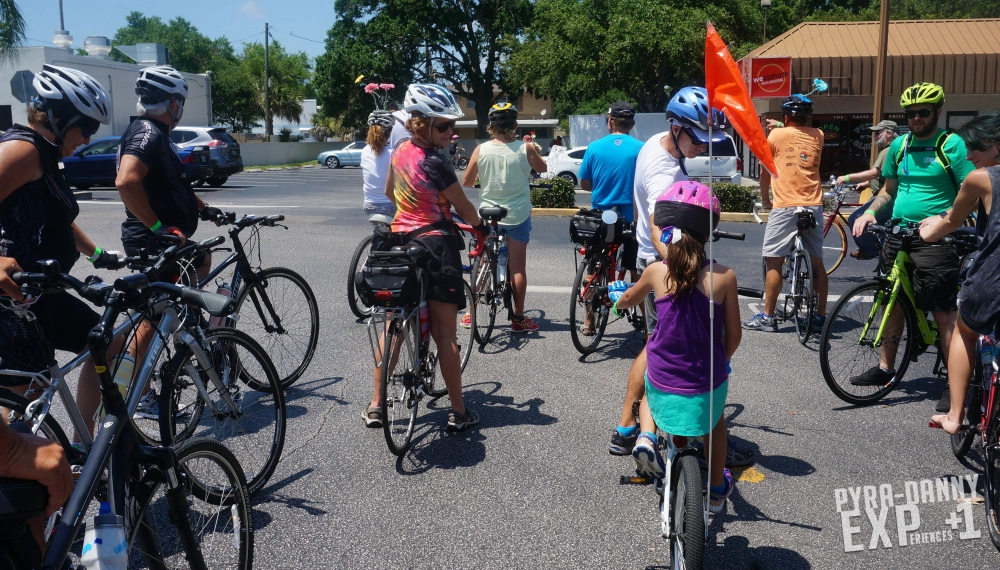 Then we were off!
Led by Jason, we built our appetites with a short ride through the neighborhoods behind the Trek Store. We passed hanging trees, waterfront properties, and mini parks before heading north to the new Fresh Kitchen. The staff was busy assembling personalized bowls of Roasted Mushrooms, Veggies, and BBQ or grilled Chicken over Brown Rice. I chose everything and topped it with a squirt of their Coconut Srirachi Sauce while Fiance Shoes opted for the Creamy White Ginger sauce. (Shhh, we enjoyed Fresh Kitchen's offering the most from the whole ride, but perhaps it's because it tasted similar to familiar Asian dishes)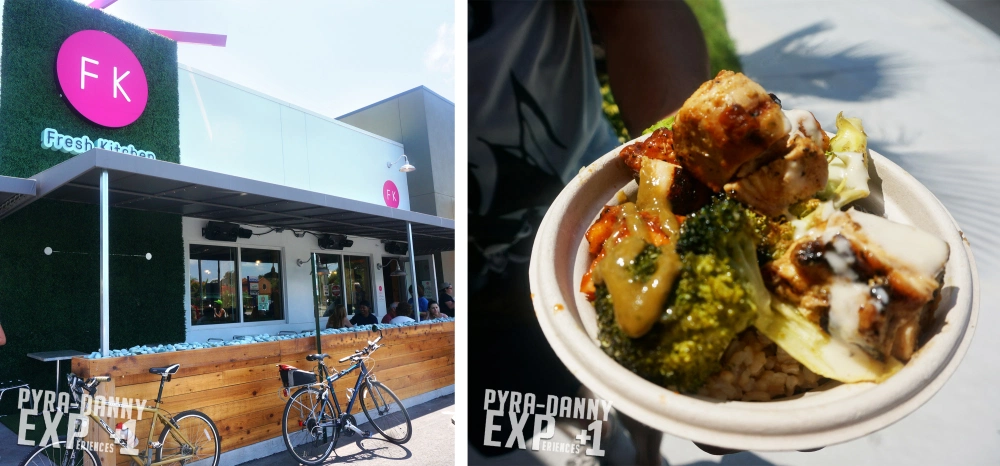 Soon we were zooming down 1st Street before turning right into the Crescent Lake area. We passed the inviting green pastures of the park before landing at the young Swah-Rey. Swah-Rey is popular for their mini Cupcakes displayed on drink shots such as Milk or Wine. Although yummy, it was also visually difficult to follow up Fresh Kitchen's full bowls with tiny pastries. I nibbled on a Salted Caramel then a Red Velvet Cupcake.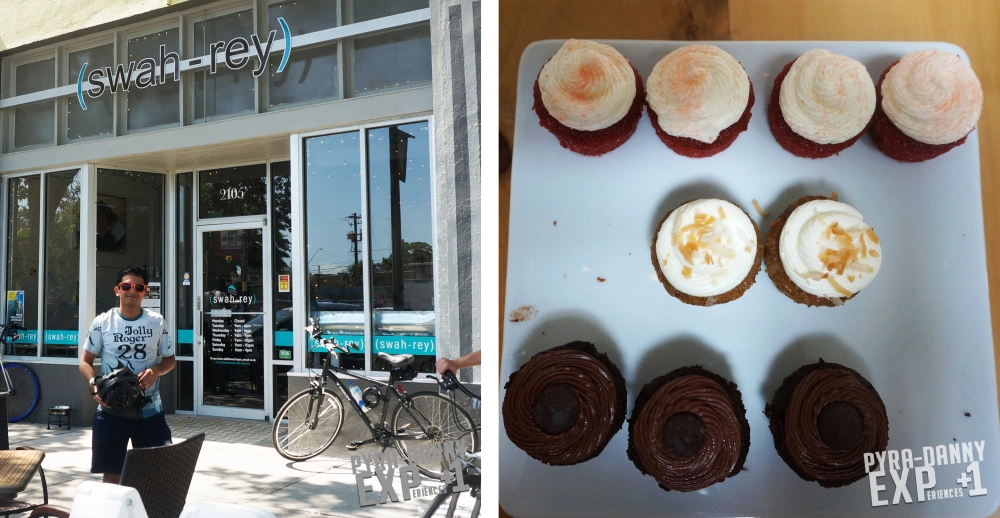 We entered Downtown and headed to newcomer The Mill which had already earned plenty of awards for its creative menu on local ingredients. Plates of their famous Watermelon Bruschetta (which included Feta… and it all tasted great!) and Sweet Pea Hummus (paired with Belgian Endive) made the rounds.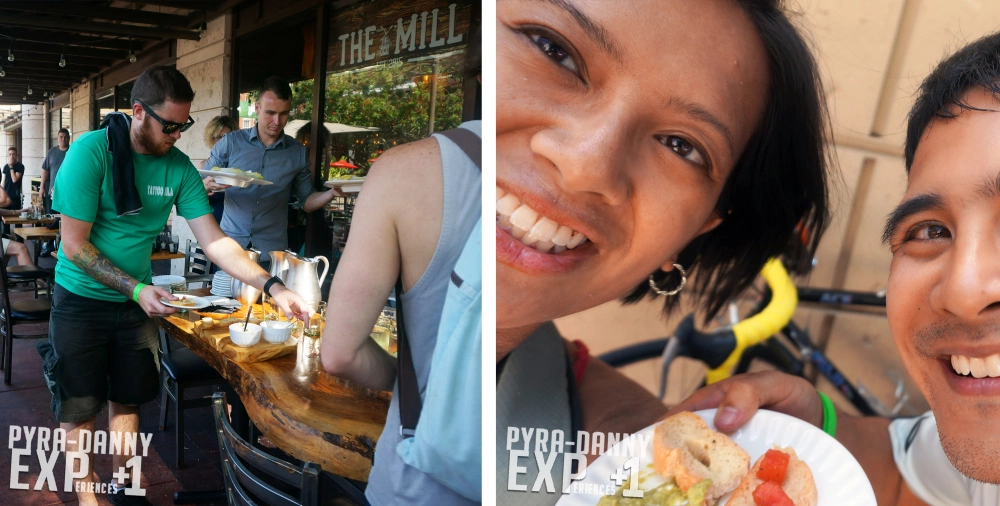 400 Beach is a Downtown staple specializing in Seafood and beautiful outdoor views, but it seemed they went off-menu as large plates of BBQ Pork Sandwiches, sweet Meatballs, and Chips & Artichoke Dip stuffed our bellies.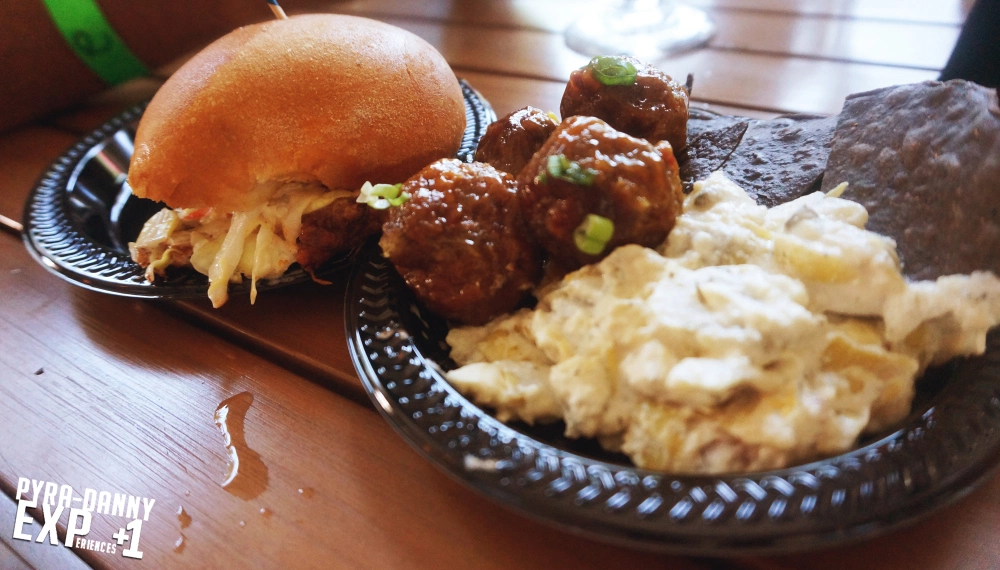 The ride ended back at the Trek Bicycle store were nearby Westshore Pizza had set out a spread of their finest, a jammin' trio of ladies were belting tunes, and Beer from 3 Daughters Brewing filled the coolers.
The St. Pete Bike 'N' Eat was a totally casual ride (my RunKeeper app averaged us at 8 mph) and very safe. A team of Trek volunteers (easily recognizable for the plastic flowers they had sprouting from their helmets) performed perfect choreography of racing ahead to intersections, directing traffic, or holding back if a red light stopped someone.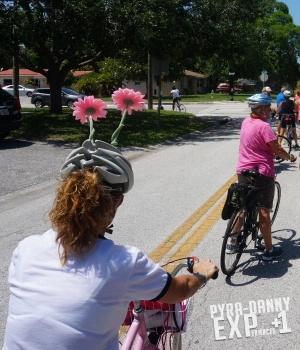 Despite my quest for new experiences, I hadn't previously tried any of  the restaurants we visited—which was awesome! (C'mon—St. Pete has so many cool, new places opening up every week it seems). At each location the Manager or Chef greeted us to also tell about their restaurant as well as the dishes we'd taste.
Unfortunately, a couple times I had to practically inhale my food or risk getting left behind (especially at Fresh Kitchen and 400 Beach which delivered the most food). But overall the amount of food was perfect. I was worried that lots of eating followed by biking would result in unpleasant side-road drama, but the only health concern came from Fiance Shoes getting a headache likely from the humidity and heat.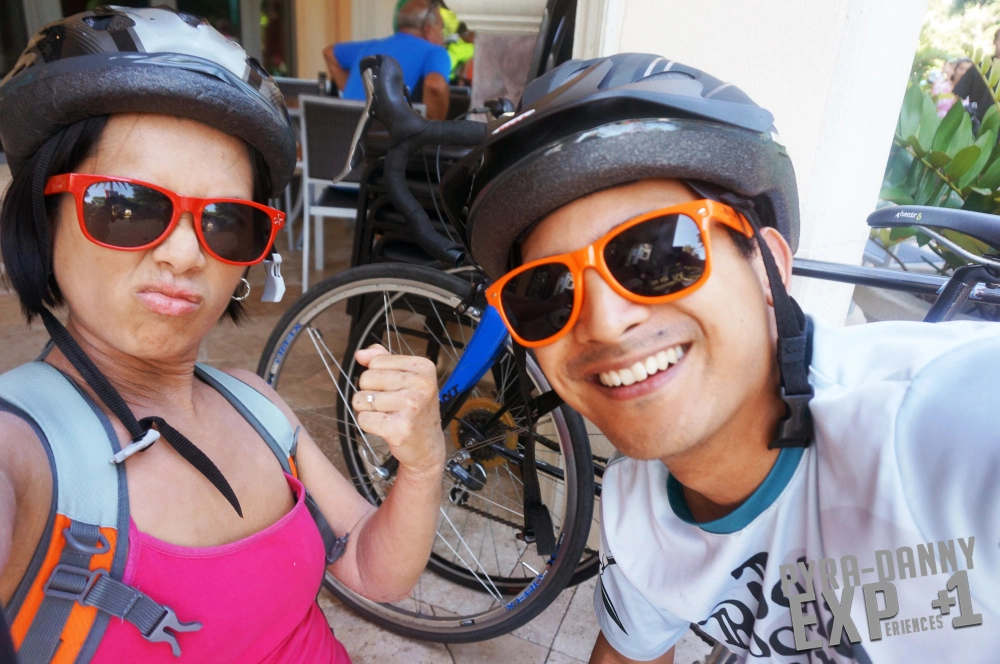 What a fun event! I'm only bummed about the many times I've missed it in the past… and not having the time to completely finish my Fresh Kitchen or 400 Beach dishes. The St. Pete Bike 'N' Eat was a terrific and different way to explore my city as well as a tasty way to discover new dining options. Thanks to all those involved for making this happen.
I apologize for my blurry and over-saturated photos. I barely glanced at the viewfinder when taking all these shots.