Ah—Tampa Bay-nians (or whatever we're called) receive plenty of sunshine, warm weather, and easy access to some of the best beaches in America. Yet on opening night for The Beach Tampa, we easily traded all that outdoor goodness to jump… not into powdery white sand but into a pit of white balls.
The Beach Tampa had invaded Amalie Arena and was transforming all cynical goers into squealing kids because… how could you NOT jump into a huge ball pit without feeling anything less than happy.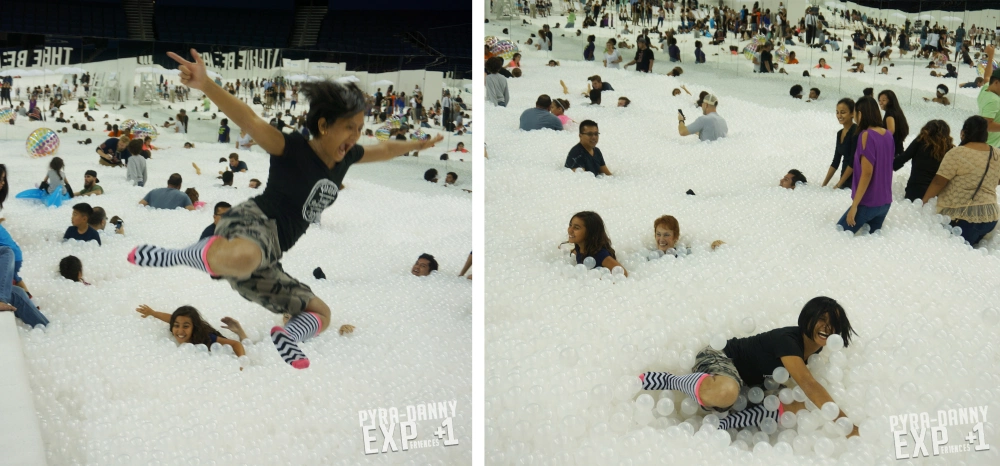 Quick lessons learned:
You will want to bury yourself in the balls. Don't ask- you just will. But forget trying to stand again- it's difficult to get good footing and your friends will decide it's more fun to re-bury you than help. When this happens return the favor (if you know what I mean)
It looked insanely crowded. Part of it is from the illusion of the mirrors surrounding the exhibit but it really was packed during our visit; yet we found plenty of space to ourselves. Probably since nobody can move once they get in.
It looked insanely crowded- but since entrances are timed and walk-ins aren't accepted the crowd was very controlled.
Use the free lockers unless you can hold your phone, keys, wallet, etc etc in your hand the whole time. Never stick it in your pocket (unless your pocket is zippered/buttoned up) because it WILL fall out, sink, and did I mention you'll not be able to play Pokemon Go until the exhibit ends August 25.
Wear socks. Besides the obvious cleanliness, trying to maneuver through this pit on your feet really stresses your toes out. Socks alleviate some of that.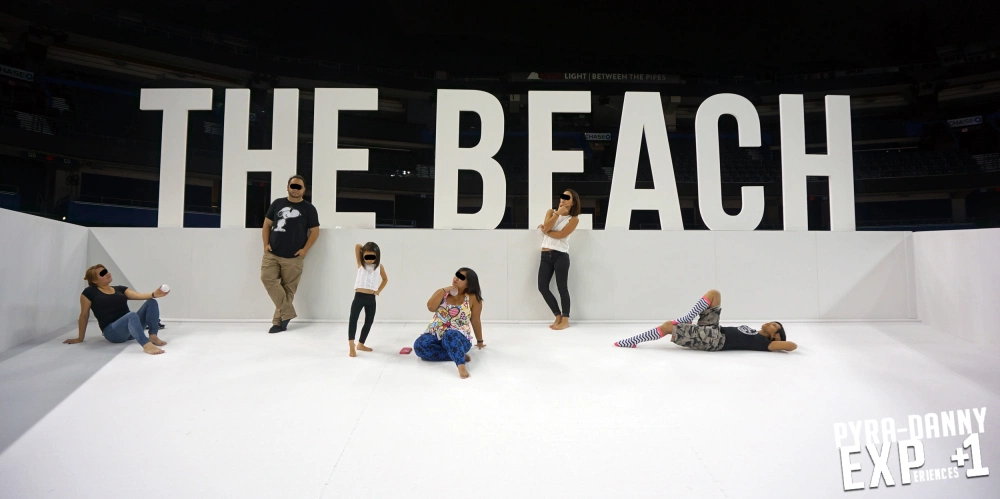 I first passed an ad for The Beach during last year's Washington D.C. trip. I decided it 'The Beach' with its thousands of white balls, white lounge chairs, and white tiki hut was an obvious government attempt to duplicate Florida's best but confusing it with a Diddy music video. We didn't visit (more pressing things came up) but other Tampa Bay-nians—richer and more influential ones—loved the experience so much they decided to bring it to Tampa.
Thanks to them we were diving into The Beach and using all our strength to run through. It bordered a nightmare. Once it felt like you dug a space for yourself, a tsunami of plastic balls would rush in and fill the space. But it was the freakin' kid in our group who was moving excellently; practically sailing on top of everything.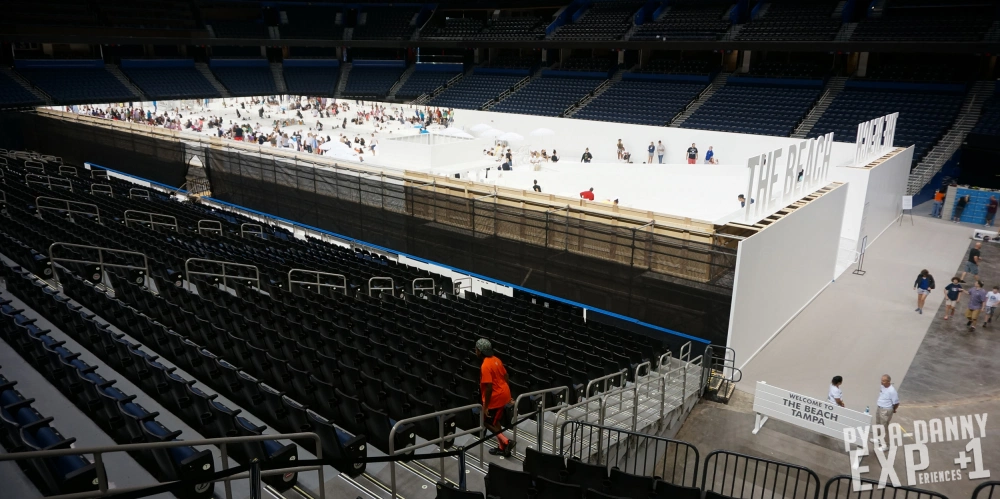 If memories of those sweaty, stinky ball-pit playplaces of your childhood make you shudder, we learned every ball is built with an antimicrobial protection layer. They felt normal to me however after one hour of swimming, all my exposed skin was freakishly dry. Yes—my eczema can be blamed but I'm pretty sure all that antimicrobial stuff contained alcohol which dries out skin. So… that's a good thing for the germaphobes, but can be an itchy thing for my dry skin buddies.
Balls balls balls. Wow it was so difficult to control my internal-immature side from breaking out in smiles at all the possible ball jokes. But I digress…
The Beach Tampa is not to be missed. C'mon—free admission and parking? Very fun and photo-worthy experience? Catch it while it's still in Downtown Tampa until August 25, 2016.